As the wine, champagne and if you like eggnog flows, we have finally reached the end of the year. Hurrah! And boy oh boy it has been an incredible twelve months. 2016 has brought plenty of spills as well as thrills along the way.
With so many highlights there is barely enough room to cram it into our oversized Christmas cracker. From Brexit and Sir Nigel of Farage, to Clinton and Trump. It's been a real roller-coaster.
In fact during her youth, did you know that HRC actually wore specs? This was during Clinton's period at university.
On the sporting front there were a myriad of highlights in 2016. Andy Murray capturing Olympic Gold and Wimbledon (again) to England's miserable exit from the Euros. It seemed that even the national side wanted to make a quick departure from Europe!
And then there was Leicester City. Some people have already called 2016 the year of the Fox. Claudio Ranieri's side defied all the footballing odds and swept to his and Leicester's first Premier League title. When it came to the bookies, the 5000-1 outsiders turned the form book upside down and inside out.
Now we look to the future and start to wind down accordingly. After a long hard slog in front of your desk it's about time you let your hair down. We are talking about the traditional end of year office party. We all know a Clive in auditing or a John in accounts. Nevertheless, even the latter has the chance to enjoy a glass of grog now and again.
Go on, you deserve to power down that Macbook or laptop in favour of a white wine spritzer or Bloody Mary. Naturally, you want to look your best for the occasion and what better way to impress your office chums with a spanking new pair of specs.
Whether your office do is at the end of the year or early 2017, you can look your best with our impressive array of frames. It doesn't matter if you are a metal fan or an acetate aficionado. Find the ideal pair of specs for that office party that will be certainly easy on the eye. Eyewear ahoy as we roundup our top glasses to impress the boss at the office party.
5. Baldessarini B6105
Guys, why not get the ultimate sophisticated look for the holiday period. We bring to you the bold and daring Baldessarini B6105. These magnificent men's glasses do come with a price tag but you will really impress the boss with this pair.
Luxury is taken to greater levels thanks to this pair oozing with extravagance and craftsmanship. Manufactured from the highest quality buffalo horn, you won't need to visit the Serengeti. Handmade precision is the order of the here thanks to its meticulous attention to detail.
They feature browline frame in light brown and gold. This timeless pair of glasses will have many a CEO swooning over you for style tips and more. The B6105 men's glasses is without doubt a must have accessory for any metropolitan gentlemen's wardrobe.
4. Bvlgari BV3033K
Suitable for both single vision not to mention bifocal and varifocal lenses, we present to you our next Christmas cracker. It's time you paid attention and had your eyes firmly on this pair instead of that Excel spreadsheet.
Brand new in, the Bvlgari BV3033K are where fashion is really at. Sleeker than a black panther and refined to the core, admire the thin frames and expert production of this high end pair of men's glasses. That's right we don't cut any corners here especially as far as style is concerned.
The signature branding can be found on the arms, whilst its simplicity tells the whole story. Packing more punch than Anthony Joshua, they are available in three colours including matte black, grey and beige.
3. Chopard VCHB19S
Now we turn to the ladies. The stunning Chopard VCHB19S will have many of your colleagues mesmerised. Just take a look at all that bling! With enough rose gold to sink a ship, this eye popping pair stands out from the office crowd.
It features the signature logo which is located on the arms whilst the temple offer rose gold detailing aplenty. In addition to this, the bridge is also encrusted with an extensive array of dazzling jewels. If you want to make your mark at the water cooler, these are the go to glasses.
2. Roberto Cavalli RC0515
Our next offering is as eye catching as Santa's fluffy white beard. We bring to you another brand new set of specs to get all goggle eyed about. The Roberto Cavalli RC0515 ladies glasses offers a very snazzy honeycomb like design across the frames.
On top of this, you will find the signature logo on the arms and branding on the lens. Featuring a spring hinge, this selection should definitely go straight to the top of your Christmas tree. Available in shiny black, crystal and dark havana this modern pair of cat's eye glasses will have your office colleagues purring.
1. Ray-Ban RX5121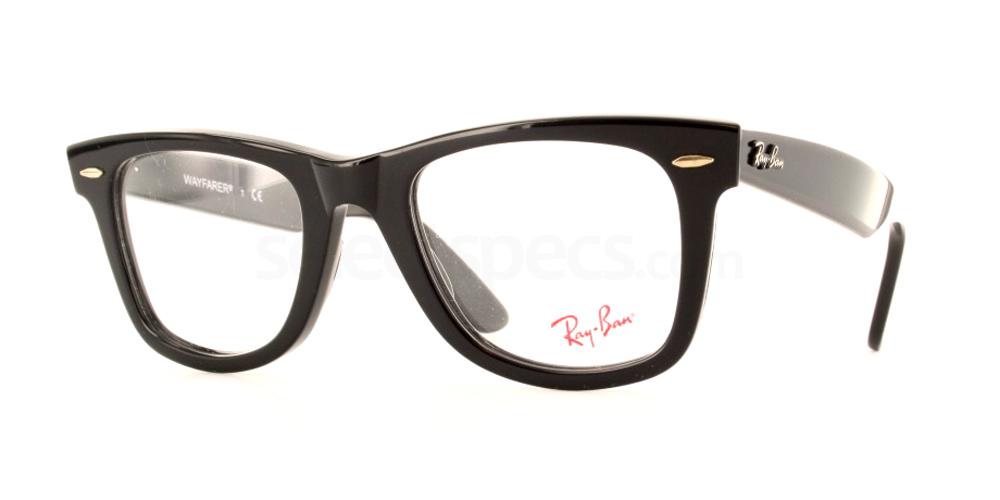 There's no better way to celebrate your office party with a pair of Ray-Bans. Considered to be one of the most iconic frames of all time, this time-honoured classic is much loved across the globe.
Created by Raymond Stegeman back in the 1950's, the RX5121 is available in both prescription glasses and prescription sunglasses. These specific square shaped glasses will perfectly match a plethora of face shapes. You will find the Ray-Ban logo hidden away on the temples, whilst its classic look emanates a genuine retro demure.
Benefit from the large lens which is compatible with everything from bifocal to varifocal. Raise your glass and find your inner geek chic this winter with a pair of stylish Wayfarers.
For more beautiful Christmassy specs take a look at #VersaceHolidays Gift Factory for a sneak peak behind the scenes!
Get festive and share your best moments from your Office party with #SelectSpecsSelfie
Follow us: