Luxury Italian designer brand Fendi always produces gorgeous specs & sunglasses which stand out from the crowd. Perfect for fashion forward individuals, Fendi favors quirky designs, bright colours and unique frame shapes. Spring/Summer 2017 is no exception, with many beautiful designs launched for the new collection.
Take a look below at some of our top picks from Fendi's SS17 showcase. Which pair is your favourite?
Fendi FF 0242/S
Worn here by YouTuber and blogger FleurDeForce, the Fendi FF 0242/S feature metal frames, stepped temples and a gorgeous jewel embellishment on the frames.
The feminine cat-eyed shape and mirrored lenses are also bang on trend. Available in three different colours, these sunglasses will elevate any summer outfit, adding that little extra bit of glitz and glamour to your everyday wardrobe.
Fendi FF 0242/S
Fendi FF 0190/S
These sunglasses really make a statement.
The Fendi FF 0190/S feature the classic feminine cat-eye shape, with minimalist rose gold metal frames and black triangle detail in the corner of the frames.
Available in a choice of three other colours, these sunglasses are bold enough to make you stand out from the crowd, but are classic enough to be easily worn for years to come.
Fendi FF 0190/S
Fendi FF 0221/S
The Fendi FF 0221/S are very similar in style to Lady Gaga's above.
Featuring a slim round metal frame and a double bridge which is very much on-trend, these glasses are the perfect 'geek chic' accessory to any outfit.
Round glasses are being worn by many celebrities and fashionistas at the moment, and they are the must have trend for your summer wardrobe. They are also available in three other colours if the pair below isn't your cup of tea.
Fendi FF 0221/S
Fendi FF 0200/S
Make like actress Riley Keough, and go for this gorgeous pair of tortoiseshell sunglasses.
The Fendi FF 0200/S feature a slight cat-eye shaped frame, with oversized brown lenses and gold temple detail, making this pair the perfect classic accessory to suit many styles of outfit.
This versatile pair would look equally fab worn on the beach with a bikini as they would dressed up for a glamorous evening out.
Available in three other colours, including a gorgeous violet-blue which would add a great 'pop' to your look.
Fendi FF 0200/S
Fendi FF 0240/S
The Fendi FF 0240/S really are something else entirely and are the perfect pair to go for if you want your sunglasses to take all the attention in your outfit.
With bold clear frames and colourful striped detail in the corners of the frames, this pair not only looks super cool but features many of the key trends for Summer 2017.
Bright colours have featured on many of the catwalks this season, and there's no easier way to get on-trend than wearing the Fendi FF 0240/S. They are also available in three other bright colours, so be sure to take a look.
Fendi FF 0240/S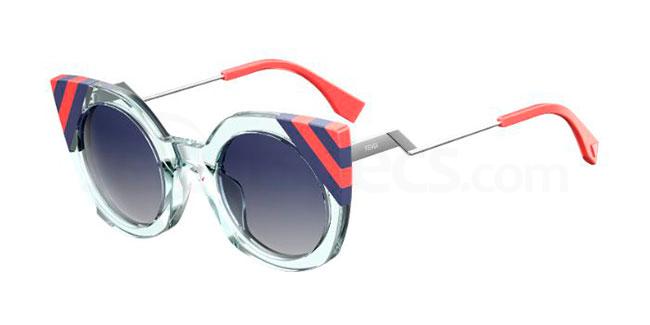 Getting ready for summer? Take a look at the top swimwear brands this season.
Tag #SelectSpecsSelfie for a chance to be featured on our page!
Follow us: