This year's Billboard Awards took place on May 21st 2017 in Nevada, USA. As well as the music award ceremony, everyone's eyes were focused on what the celebrity attendees were wearing to the event.
In past years, famous faces such as Beyonce, Britney Spears and Jennifer Lopez have been spotted at the ceremony.
Celebrities who have appeared this year include the likes of Rita Ora, Celine Dion, Lucy Hale and Olivia Munn.
On that note, lets take a look at some of the best looks from some of the A-list names on the red carpet from this year's ceremony.
Tiffany Alvord
This is the first of many classic looks from this year's Billboard Awards event which comes from singer, Tiffany Alvord. In this photo, she is sporting a hi-lo dress with a square neckline.
The bodice is in a plain white colour, whilst the skirt appears to be made from a chiffon type floral material which is slightly ruffled at the hemline.
To accessorize, Alvord has teamed this dress with a pair of sparkly drop earrings and a matching clutch.
She has finished the look off nicely with a casual up-do and a pair of complimentary heeled shoes. This is a subtly feminine look and I really love it! I think the dress suits Alvord's frame perfectly.
Kate Beckinsale
This is another great look but from actress, Kate Beckinsale. In this photo, she is wearing a firework printed maxi dress which features a deep V-neckline and a cinched in waistline.
To finish off the look, she has added a classic up-do and natural looking make-up.
I think this dress looks sensational on Kate and it is a stand-out look from this year's event for sure.
Celine Dion
This dress definitely has to be one of the main talking points of this year's Billboards, right?
This dress is absolutely bonkers, not to mention that Celine Dion looks fantastic for her age. In this photo, singer Celine is wearing a deep V-necked fitted white maxi dress.
It features slight silver embellishment just below the neckline as well as large amounts of ruffling on the shoulders.
To accessorize, she has opted for a smokey eye look. This dress really does accentuate Celine's figure in the right places and makes her look incredible.
Vanessa Hudgens
The next A-list look comes from American actress, Vanessa Hudgens who rose to fame playing Gabriella Montez in the High School Musical franchise.
In this photo, Vanessa is sporting a nude maxi dress with a sexy thigh split. It also contains cut out panelling as well as bow applique as well as a bardot style neckline.
She has accessorized with minimal jewelry and simple make-up.
A big thumbs up to Vanessa's stylist – they have definitely worked their magic with this look. It fits in with her regular style perfectly.
Anjali World
The last look comes from American singer, Anjali World. In this photo, she is wearing a maxi dress with a sweetheart neckline which contains a print which is very Hawaiian in nature with the floral monochrome print.
To accessorize, she has paired the dress with bold, statement jewelry pieces, a slick up-do and smokey make-up.
I personally think Anjali looks incredible here and it is great to see her sticking to her roots with the addition of the bindi. Definitely a fashion winner.
Another accessory that could be paired with any of the celeb fashion looks featured is a pair of statement sunnies. A classic example are this pair of Salvatore Ferragamo SF835S's.
This pair of bold specs would complement any of the looks above and look amazing! With their white rims and contrasting black frames, these glasses are suitable for any A-lister. 
That concludes the best looks from the Billboard Awards 2017. Which look was your favourite?
I would have to say mine would have to be the dress worn by Vanessa Hudgens as it has that great contrast between femininity and sexiness.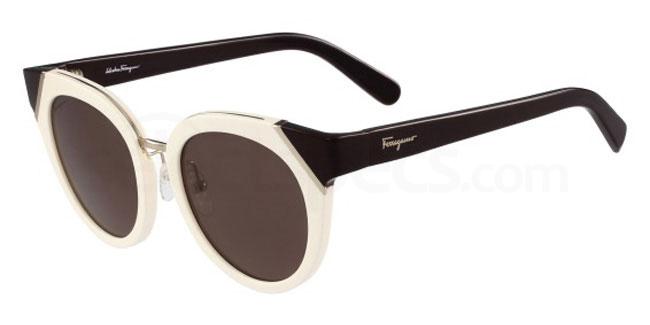 If you liked this post, check out the similar post discussing the best sunnies at the
Brit Awards 2017
Tag #SelectSpecsSelfie for a chance to be featured on our page!
Follow us: