When you think of movies that were released during the 1990's, a lot of films spring to mind. Movies such as Clueless, Pretty Woman, Cruel Intentions and Girl, Interrupted made their debut within this era.
These are flicks that we see today as being extremely inspirational.
They shaped our childhoods and helped to change our lives forever.
These movies also sparked new eyewear trends at the time of their release such as the rimless and aviator styles.
Lets take a look back to some of the most influential style and eyewear choices from classic 90's movies.
Jawbreaker (1999)
This is a classic look from American actress Judy Greer who played Fern Mayo in the classic black comedy 'Jawbreaker.'
These bubblegum pink, thick rimmed oval specs are an example of a perfect 90's eyewear look.
We are certain that this style will come back on-trend very soon.
Get Judy's look with this similar pair of Kate Spade DEANDRA/S's for the ultimate 90's vibes: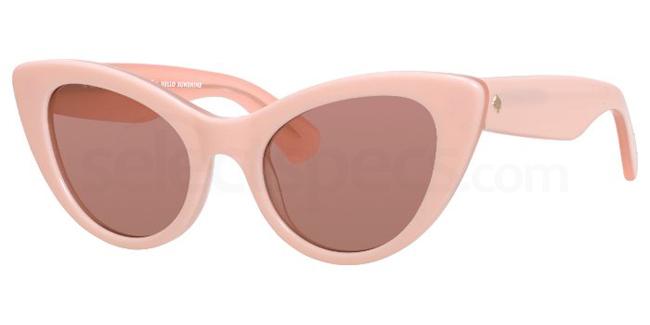 Clueless (1995)
Isn't this just one of the most iconic looks to date?
Actresses Alicia Silverstone and Stacey Dash helped to create some of the best fashion looks of all time thanks to this hit chick flick.
Both of the ladies' tartan co-ordinated outfits just tick all the right boxes for us.
So sassy yet stylish – such brilliant, timeless looks that will remain in fashion for a long time to come.
Pretty Woman (1990)
Pretty Woman is an outstanding romantic comedy which features many influential looks from leading lady: Julia Roberts.
This one is definitely up there with the best.
Roberts is rocking a scooped neck cut out fitted dress with an added ring detail conjoining the two different fabrics.
A burgundy coloured shirt has been tied around her waist, which is a definite trend of today.
Long layered necklaces and large hooped earrings complete the look perfectly to give it a real 90's edge.
The Craft (1996)
The next look comes from supernatural horror movie, The Craft, which was released in 1996.
Actress, Fairuza Balk really captures the essence of true 90's gothic grunge in this ensemble.
The pairing of a plain black tee with a matching vintage leather jacket and trousers make for an epic outfit.
The addition of some layered gothic inspired jewelry and dark make-up finish the look effortlessly to create an uber edgy outfit which will always remain in our minds.
Cruel Intentions (1999)
When Sarah Michelle Gellar played manipulative protagonist, Kathryn Merteuil, in Cruel Intentions, everyone was intrigued.
As well as incredible acting, the actress sported some awe-worthy outfits within the film's duration.
One of the best outfits from the movie is the look featured above.
Gellar is wearing a very revealing satin and lace strappy top with a black corset, which definitely inspired some present fashion trends.
The addition of a pair of black trousers makes the look more casual.
Dainty jewelry give a more feminine, subtle edge to the ensemble.
As you can see, 90's fashion was and still is extremely influential to this day with the help of some of these classic movies.
I look forward to see what 90's inspired trends make a come back in future seasons to come.
If you loved this 90's throwback style post, check out the 5 Coolest Ray-Ban Sunglasses Ever Seen In Action Movies
Tag #SelectSpecsSelfie for a chance to be featured on our page!
Follow us: