It's hard to spend the last of summer outdoors in the sunshine when the World Championships in Athletics was taking place in Beijing – that's a few days devoted to sitting in front of our TV's then!
Yes, the World Championship in athletics has just finished, and we are eager to sum up which sportsmen and women used which brand of eyewear to aid them in this year's competition.
Usain Bolt: Puma
Usain Bolt was of course the star of the competition, taking home three gold medals for Jamaica and proving himself once again as being the fastest man on the planet.  No wonder why he gained the nickname Lightning Bolt!
He is also sponsored by Puma; an innovative brand in the vigorous world of sport.  Although Bolt hasn't been wearing their eyewear we still thought their range was worth mentioning because they're constructed from high strength but lightweight materials, equipped with spring hinges which are designed for physical activity.  
Different to standard hinges, spring hinges provide greater movement to the wearer and give a snug fit, which is more likely to stay on during running and other sports. Or, taking influences from modern urban aesthetics, you could just like the design of them, like these everyday Puma PU15371's:
Jessica Ennis-Hill: Adidas
Jessica Ennis-Hill was another athlete who earned and deserved her gold medal, making an especially amazing comeback after motherhood.  The Sheffield lass is one of the world-class sportsmen and women who are sponsored by Adidas, joining pro-golfer Justin Rose to name but one.
What's great about Adidas is their dedication not only to athletics but to all sports, so when choosing a frame it promises to give you the best vision, protection and long-lasting durability, whether you need it on track, field, ice or green.  Most frames, like the Adidas A409 Swift Solo boast a unisex design and have sneaked their way into our current sale!
Ashton Easton: Nike
Ashton Easton's eyewear probably attracted the most attention, but for good reason; the weather can cause a lot of trouble to competitors, especially when they're performing under the heat and high temperatures. Imagine having to run long distance while your skin is burning and your eyes are losing focus because of all that glare. Same goes for the spear, ball, and discus throwers, for instance.
Eaton's eyewear is part of his face mask, designed purposefully to cool athletes down between events, but Nike eyewear (without the cooling hood) has been specifically designed for physical activity and can be worn during events.
Only the best, impact-resistant materials are used, such as Flexon memory metal in their eyewear, for example or their modern ventilation in their sunglasses to reduce fogging, great for cyclists or runners.  Like the ever-popular Nike Road Machine EV0704 sunglasses: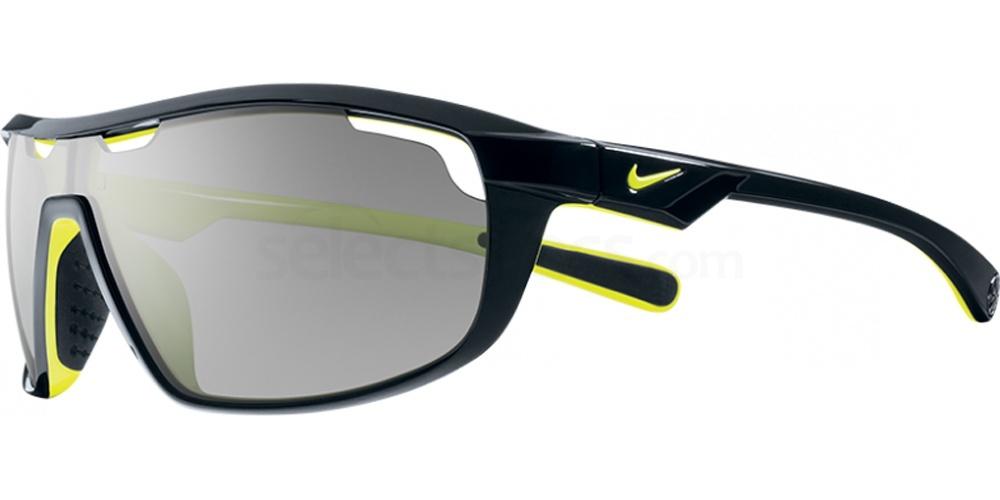 There are so many various models of sports shades available and there are no general rules to render as one single brand or design as the best. Yet, there are certain guidelines on how to choose items that are more appropriate for doing sports outdoors and we're sure top athletes stick to them!
First of all, avoid metal frames. Apart from being potentially dangerous, these are pretty hard to fit well around the face. Opt for polycarbonate plastic with soft rubber pads or on the nose instead.
Pay special attention to lenses – invest in those that are impact resistant. Polycarbonate or NXT material will ensure your sunglasses won't break easily. Plus, they are UV absorbing and we're sure you already know how much UVA and UVB protection is important. Furthermore, polarized lenses cut glare and reflection, whereas photochromic ones adapt to light conditions. Right coatings could also help out with similar problems.
Finally, if you wear contacts, it would be good to find extra-wide lenses that can wrap around. Frames should not bother your sight. Anti-fog coatings are also a good asset and so is the possibility of fitting the prescription lenses directly into sunglasses. Oakley are a good brand for such solution.
For other options, browse our range of sports eyewear, with other brands such as Bolle, Smith Optics, Julbo, Cebe and all named above.  Seen your favourite athlete wear a certain brand?  Let us know in the comments section below!
Follow us: