It's one of the most hyped questions of our modern times – one that passes our lips nearly everyday, or crosses our mind each time we flick through our Instagram feed.  And that question is; what sunglasses do the Kardashian's wear?
Love them or hate them, the Kardashian/Jenner clan have literally taken over every social media and newsfeed going – it's not surprising that some of us are sick of the sight of them.  But that doesn't mean we don't always appreciate their style.
For if they do have any talent other than being unashamedly rich, those girls know how to dress and they know a thing or two about stylish sunglasses.  So we've gathered a few Instagram snaps of the girls to identify what sunglasses they're exactly wearing, to help you make your next sunglasses choice a little more informed.
Kris Jenner

Starting with mama Kardashian/Jenner, because there really is no-one else who you can blame for the unstoppable Kardashian explosion that's spread worldwide over the past few years. This one is easy, as she tends to stick with the same model of sunglasses, which we know as the Dior SOREAL sunglasses.
These sunglasses have become so popular, with thanks to her and her family wearing them, that they're not readily as available as we'd like.  What we suggest is the slightly edgier model Dior have created called DIORREFLECTED:
Featuring a double crossbar detail, they boast the same cool curved browline as Kris' and flatters a number of face shapes.  (We think Kylie wears them too here.)  With the arms of the frame sitting at the highest point, the frame can also show off and 'lift' your cheekbones – no wonder why Kris wears them a lot!
Kourtney Kardashian
First born here, move out of her way! Surprisingly, Kourtney can be the most low-key out of all the Kardashian clan, but that's not a bad thing. After all, there aren't many of us who can just casually stroll out in a fluffy camel faux fur coat, eye-popping cleavage and skin leggings like the rest of the Kardashian/Jenner family are able to.  Making her style the more accessible for most of us!
Like her clothes, she doesn't tend to go for sunglasses that are too out-there.  She still has a penchant for designers and has been seen to wear Fendi and Céline frames previously, but in the above Instagram post these frames look as chic as the Prada PR01RS:
Despite Prada listing these for men, the simple cuts and subtle detailing can really up your androgynous game.  Team it with some luxe trackies, high heels and simple vest top like Kourtney above and you'll be bang on the LA trend.
Kim Kardashian

Kim Kardashian. Two words that have taken the world by storm.  Would the Kardashians be as popular as they are now if it wasn't for this woman?  Since being best pals with Paris Hilton through Paris' most famous years, we reckon Kim was just born to be in the spotlight.
Just like her mother, we can tell she has a favourite pair of sunnies because she seems to wear these a lot.  The tell-tale 3 dot symbol told us right away these were a Céline model and we think they might just be the Céline CL 41756:
Kim loves a straight browline with chunky rims and who can blame her?  They suit her well.  Both Céline and Kim were ahead of the trend with this frame, because now a number of designers are releasing their own version of the straight browline.
Khloe Kardashian
Everyone loves Khloe and she's gone from strength to strength in recent years with her fitness transformation, making her a great role model for young women.
She's a big fan of aviator sunglasses, but there is one particular brand and model she goes back to time and time again. She usually wears them in black, but it looks like she also has them in a classic gold, which look just as cool. We are of course talking about the Porsche Design 8478: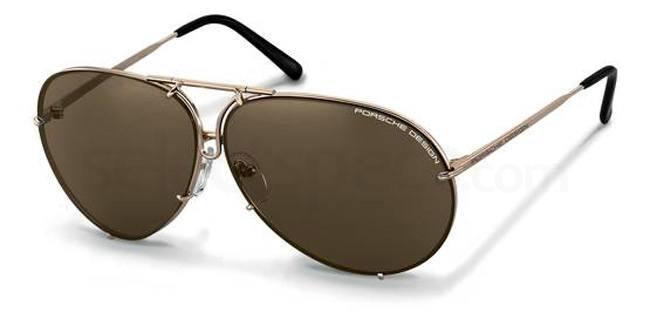 These aviators have also grown in popularity thanks to many other celebs wearing them; they were spotted on Pitball in the 'Backed Up' music video with Jennifer Lopez and Prince Royce, her little sister Kendall has been seen wearing them (we'll get to that in a bit), as well as Gemma Collins who wore them in the Celebrity Big Brother house earlier this year.  They're our favourite on Klo, though.
Kendall Jenner

Who knew little Kendall was going to take on the fashion world in such a big way these past few years, working with high-end brands such as Estée Lauder, Balmain, Fendi and having Karl Lagerfeld call you 'the girl of the moment'.
She's certainly made an entrance. As we mentioned earlier, there could be some sunglasses swapping going on here between Kendall and Khloe, seeing as they've both been snapped on numerous occasions in the Black Porsche Design 8478:
What really sets these aviator sunglasses apart from the rest is the unique shape of the lenses, with its metal detailing.  Apparently the first sunglasses in the world to have a interchangeable lens mechanism, they're a re-release of the original 'Heritage' model and good enough for second-to-youngest Kendall.
Kylie Jenner
Finally last but not least, she might be the youngest in the family but she's a force to be reckoned with. She changes her sunglasses quicker than you can say 'Kylie Jenner got lip implants', so it's pretty hard to keep up with her.
For the sake of this post however we wanted to focus on these seriously cool Miu Miu 10QS sunglasses Kylie was seen wearing:
Miu Miu are a brand that certainly doesn't shy away from bold, yet vintage designs to flatter girls who want a striking look – something that sounds right up Kylie's street.  She has been seen to wear other splash-the-cash designer sunglasses though too, such as Céline, Fendi and Tom Ford.
So if you want to find out what sunglasses she might be wearing (or any other Kardashian/Jenner for that matter) in a particular Instagram snap or otherwise, make sure you comment below and we'll let you know.
Follow us: