Kesha Rose Sebert first got her foot into the music industry in 2009. Featured on Flo Rida's popular track 'Right Round' as a guest vocalist.
The 30-year old singer has made herself known with the release of her debut single 'Tik Tok' later in the same year.
Since then, Kesha sprung head first into fame and fortune.
8 years later, she has fully established herself as a solo artist with the release of singles such as 'We R Who We R', 'Crazy Kids' and most recently 'Praying.'
Her memorable, catchy lyrics are sure to stay in everyone's minds.
Another thing to note about the singer is her vivacious, loud sense of style.
Kesha is known to experiment with her personal look with no boundaries set.
Her latest album titled "Rainbow" is expected to release in August 2017 after an ongoing series of legal battles over sexual assault with former producer Dr. Luke, who worked with the singer.
To celebrate her new album, here are some of the best looks that the singer has worn so far in 2017.
Pyjama Party
Kesha looks very fashion-forward yet glamorous in this daring ensemble.
We are absolutely loving the baroque style pattern on this pyjama like two-piece.
The singer has taken this look back to A-list acceptability with the addition of a floral necklace which sprinkles a touch of femininity to the outfit.
The matching headband and sunnies give this look more of a bohemian touch, which works so well.
Take a glance at this pair of similar Just Cavalli JC792S specs to steal Kesha's style: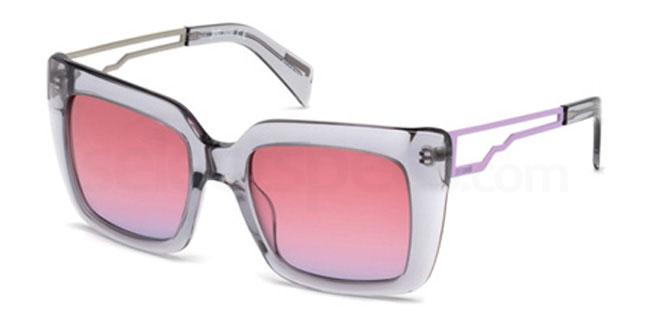 Wild Child
This could be considered to be one of Kesha's more experimental outfits.
This stunning black matching suit works well in her favour.
The suit features heavy patch embellishments as well as rainbow coloured tassels on the arms which add a unique twist to the proceedings.
Flower Power
Kesha is sporting a long sleeved floral mini dress in this shot accompanied with a matching navy coat and Chanel handbag.
The elegant nude strappy heels add a delicate touch as well as length to her slim, toned pins.
This ensemble is classy, feminine, and timeless – we love it.
Western Wonder
This Western style outfit from Kesha is totally adorable.
A purple long sleeved cowgirl style shirt is worn in this shot which features heavy embellishments.
Some matching trousers have been styled with the shirt to complete this fresh look.
The shirt has been buttoned down slightly to have more of a casual feel.
A lilac trilby hat and matching sunnies finish off the ensemble effortlessly.
Also we are absolutely loving the singer's phone case – so unique.
Check out this pair of Bvlgari BV6087B specs to achieve a similar look:
Print Clash
This is the last and final look from Miss Sebert.
In this shot, the singer is sporting another matching two piece, but this time with a floral print.
The pink stripes look almost Oriental, which adds a unique vibe.
The outfit has been paired with some amazing trainer style flatforms, which are very on-trend right now.
We are digging the clash between the gold and rainbow colours.
The embellished handbag adds a daring clashing combo to the proceedings, which somehow just works so well.
That wraps up this post on singer, Kesha and her best fashion choices from this year so far.
Check out Introducing Norwegian Singer Songwriter: Maria Mena
Tag #SelectSpecSelfie for a chance to be featured on our page!
 Follow Us: