Miley Cyrus has been through a lot of changes throughout her hectic career so far. The Nashville born beauty first got her claim to fame from her lead acting role on Disney's Hannah Montana show before going on to pursue more of a music route.
The lively 24-year old superstar is most recognized nowadays for her catchy and infectious pop hits including 'See You Again,' 'We Can't Stop,' and most recently 'Malibu.'
With 3 No. 1 US albums behind her belt, it is to be said that Cyrus is really proving herself right now.
After a rough patch in 2013, it is really good to see the singer back on track and looking healthy and happy yet again.
A lot of it is rumored to be due to the reunion of Cyrus and her once ex-fiancé Liam Hemsworth.
As well as her music, a lot of focus is always on what the singer chooses to wear on a daily basis via social media.
Therefore, lets have a peek at some of Miley Cyrus's best eyewear looks from recent years.
Happy Hippie
This is a great eyewear look from Miss Cyrus.
These sunnies just scream individuality and uniqueness.
I think they really suit her quirky sense of style and add a touch of personality to an outfit.
Check out this pair of similar Vogue VO5166S's for more of a toned down look: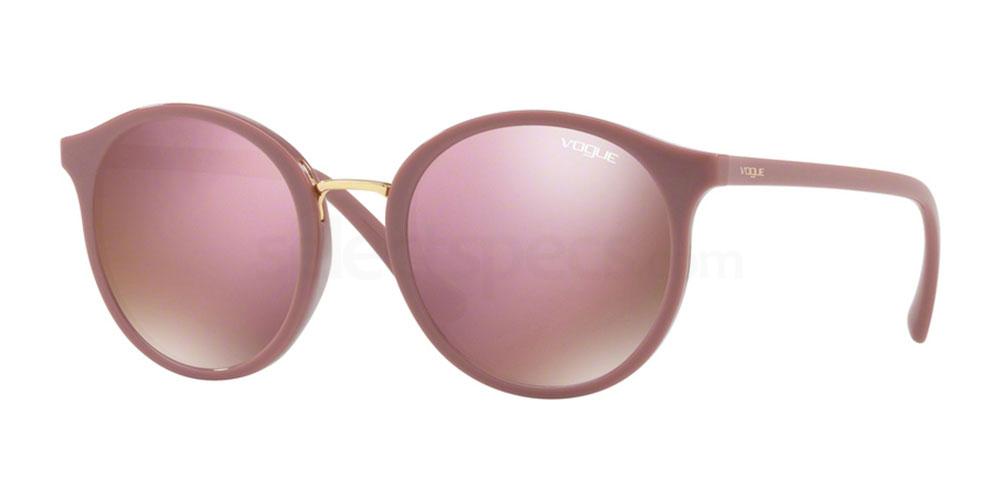 Bold in Blue
This is another classic eyewear look from Miss Cyrus.
This pair of sunglasses would add a touch of boldness and edginess to any outfit as well as a funky, retro vibe.
These glasses are just too cool for school.
Check out this similar pair of Dolce & Gabbana DG4278 sunglasses. Definitely adding a unique look to any outfit.
Retro & Rockin'
This is another gorgeous eyewear look from the singer.
These sunglasses are bound to impress with bold white frames and a funky rounded shape.
For a definite sprig of 70's glamour to the proceedings.
Check out this pair of similar Salvatore Ferragamo SF831S's to do the trick:
Crazy but Chic
This is an eyewear look which is very extreme, even for Miley.
In this photo, the singer is sporting a wacky pair of bright red oversized shield style sunglasses.
Ever the controversial star, Cyrus is also smoking a joint too.
If you want to get noticed, a pair of standout glasses such as Miley's will do the job.
Check out this pair of similar Adidas ad05 Zonyk Aero Pro L shield style sunglasses for an epic sporty edge to any A-list outfit:
70's Vibes
This is another sensational pair of sunnies which Miley is sporting.
These sunglasses would add a sprinkle of vintage 70's glamour to any otherwise plain outfit.
The bold and thick red frames are bound to gain attention when you are out and about.
Check out this pair of similar Dolce & Gabbana DG6110's to achieve Miley's epic eyewear look:
That concludes this post on some of the best eyewear looks from pop superstar, Miley Cyrus.
My favourite look would be the red retro sunnies she is sporting at the end.
Which look is your favourite?
Tag #SelectSpecsSelfie for a chance to be featured on our page!
Follow Us: