Brighter mornings, lighter evenings; last time we were having weather this good was, well, last year, but it's now on its way back.  Sadly  though, this summer won't have the World Cup to last us far into the warmer evenings, but music festivals, weeks away with the lads and sipping a nice cold beer in a pub garden almost brings a happy tear to our eyes.  Oh yes, in preparation for the letting good times roll we've picked out a few favourites from our sale to slot into your spring wardrobe.  Sunshine, welcome back.
Savannah 8122 in Brown – £10.00  £9.00
Step away from the thick black frames.  Geeky chic is slowly slipping out of trend and Savannah have a casual frame to match any occasion.  This dark, rubber-like brown can tie together the burgundy reds and deep greens of last season, but be carried into the upcoming and inevitable classic white t-shirt and jeans spring/summer look this season.  Based heavily on Ray Ban's ever popular Wayfarer frame, a style that suits all – available to try in 9 other colours too.  Further details here.
BOSS Hugo Boss 0643 in Blue – £143.76  £130.28
Already a popular frame and Frames of the Year winner, the designers behind BOSS Hugo Boss have introduced an ideal frame for men everywhere.  We've taken a special liking to the blue pair with the return of spring, but these are but one choice out of the six (the Havana pair are pictured below.)  The craftsmanship is particularly well thought-out with detail in the arm partly made from a textured rubber and a black carbon fibre element, with a herringbone tweed effect, which is only visible at certain angles.  We've tried our best to capture this, but quite frankly the pictures just don't do the frame justice until you've seen them for real in person.  Further details and other colours here.
Police S8299 in Shiny Gunmetal/Red Smoke Overlay – £111.00  £93.51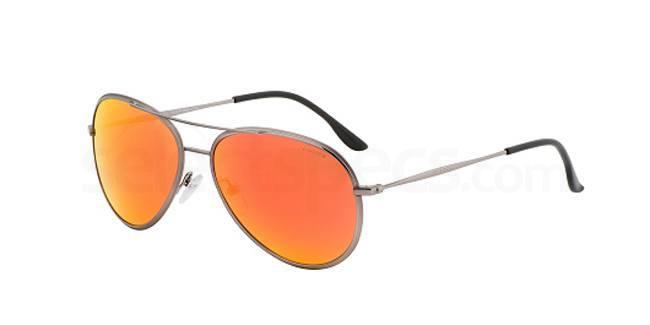 If they're good enough for Neymar Jr. they're good enough for us, but let's ignore the Police poster boy and his team's World Cup embarrassment last year.  With that well in the past, seventies is tipped to be all the rage this summer and it's time to shine for mirrored aviators and everything else seventies.  Retro styling with your choice of either red (above), blue or platinum smoked lens, they now fall under £100.  Further details here.
Savannah S8122 in Green – £10.00  £9.00
The nineties comeback is hovering around still and nothing says nineties like a pair of coloured wayfarer frames.  But, you don't need to fork out the best part of your week's wage to get your hands on some, Savannah offers a frame which has been designed with the popular Ray Ban's design in mind, but are available for now under a tenner.  There's ten different colours you can chose from, if you're not a fan of the above green and just because they're cheap that doesn't mean Savannah have scrimped on protection – they're still a full UV of 400.  Further details here.
To check out what other great deals you might find in our sale, you can browse both prescription glasses or sunglasses through this link here.  Let us know your favourites in the comment section below.