Yes, you read correctly; we have a ton of new Ray-Ban models in stock and all ready for you to admire and choose from – trust us, there's quite a few!
But to help you decide and cut down mulling over time, we thought we'd guide you through a helpful post of our favourite picks from the new selection.
Ray-Ban RB2132 New Wayfarer Flash Lenses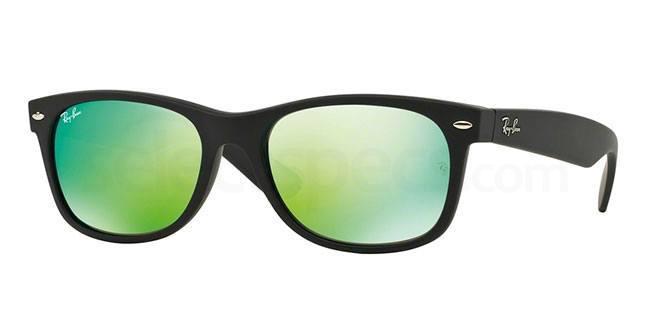 You can't go wrong with the traditional and much-loved wayfarer, so Ray-Ban decided to spruce things up a bit and add flash lenses.  The New Wayfarer differs from the original in terms of size, meaning all those with smaller head shapes can rejoice, this promises a better fit.  Other popular Ray-Ban frames have had the splash of colour with the flash lenses and now it's Wayfarer's time which we've all been waiting for.  £97.20 including free delivery, check it out here.
Ray-Ban RX7045 Prescription Glasses
Oh yes, you'd be mistaken to think there's only new sunglass stock, Ray-Ban already have a hugely successful range of optical glasses and they just keep coming at us with brilliant designs.  We particularly like the RX7045 because of it's slimmed out wayfarer feel and reminiscent squared retro lens, oh and this Rubber Havana is just one of five options for the model.  £66.60 including free single vision lenses and coatings, check it out here.
Ray-Ban RB3016M Clubmaster
The Ray-Ban Clubmaster has made a punching comeback this summer and we expect it to continue well into next season.  But with the ever-increasing trend of textures and prints, Ray-Ban is a cut above the rest and have now released the Clubmaster model in a wooden effect.  Available as sunglasses or optical with enchanting colour options of Maple, Cherry or Walnut.  £182.16 including free delivery, check them all out here.
Ray-Ban RB4224 Round Light Ray
We've been spoilt by the varied shapes and designs of sunglasses this summer, we've never had so much choice as far as we're concerned.  Take the round/circle sunglasses design for example, once buried in previous decades fashion it's now been revived by hundreds of brands, Ray-Ban included.  So for that reason, we've picked out the Round Light Ray's for their stunning lens colour and easily wearable design.  £135.36 including free delivery, check them out here.
Ray-Ban RX5322 Prescription Glasses
Ray-Ban are no stranger to the cat-eye design, but this little gem ignores it's oversized and exaggerated predecessors and has gone for a more classy and subtle flick.  The transparent feature also lessens the harshness it can add to certain face shapes and adds more to it's soft femininity.  Good job Ray-Ban, £88.20 including free single vision lenses, coatings and delivery, check them out here.
Of course we could sit here all day and chat to you how much we love Ray-Ban sunglasses and opticals, but we won't do that (we have to go home at some point.)  But for chance take a look at the new sunglasses here, or opticals here, and let us know which one has made your favourite and rest assured in the fact that we are an 100% approved Ray-Ban retailer.
Follow us: