Being the daughter of Black Sabbath's lead singer gave little information to the public on who Kelly Osbourne was. It was her appearance on the reality show 'The Osbournes' that put her in the spotlight.
On the show, Kelly came across as a feisty and rebellious teenager.
Since then, she has made tremendous strides in trying to establish herself as a celebrity, rather than living under the umbrella of her parents.
She is creating her path in life as a woman with many talents.
From TV Appearances To Acting
Based on the success of The Osbournes, Kelly received many TV job offers as well as musical roles.
She played the prison matron 'Mama Morton' in the musical drama Chicago. Some of her TV gigs included co-hosting a reality show called I'm a Celebrity… Get Me out of Here!
In addition, she worked with MTV Network on programs including MTV UK and Ireland.
Participating in the 2009 Dancing with the Stars, Kelly was the third runner-up.
One of her most important presenting jobs to date, was when she worked as a Fashion Correspondent on the TV series Fashion Police.
Kelly has also tried acting and appeared on CSI Cyber as Stella Kaine and The 7D as Hildy Gloom.
In 2008, she won Theater Actress of the Year and Style Icon of 2013.
Go semi-rimless and still be fashionable with Hook LDN HKS005 – FARAWAY
Punk Chic
She has always dressed rock chic both with her hairstyles and choice of outfits. One thing that's very noticeable with Kelly is her love of wearing different hair colours. She loves sporting funky haircuts.
From her acid pink, purple to blonde, back to black, and brunette; you name it – she's done that colour.
Kelly loves punk and gothic themed fashion and has stayed true to her rock chic roots even when experimenting with different trends. Whether with a graffiti covered top or adding skull emblems to her skirt.
Her fashion sense always has a dollop of femininity to her established edgy look.
She had momentary success with her clothing line in 2004 called Stiletto Killers. The collection's unique selling point was based on rock and roll aesthetics. It was successful initially, but closed down in 2006.
You can channel your inner punk chic just like Kelly did, with this Marc Jacobs MARC 116/S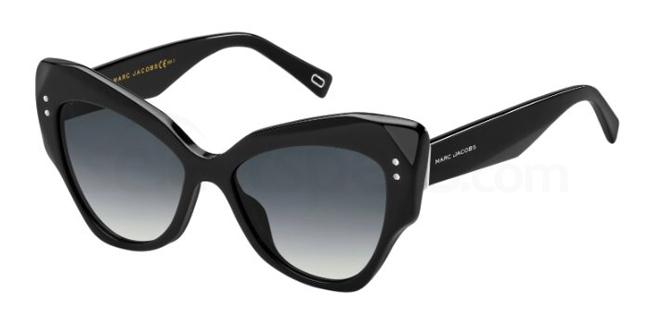 As An Author
Living in the spotlight and having famous parents comes with its ups and downs. Kelly wasn't immune from the intrusion that comes with being in the public eye.
In April 2017, Kelly published her life story memoir titled 'There Is No F*cking Secret: Letters from a Badass Bitch.'
She talks about her struggles being the daughter of music legend, growing up in the spotlight and battle with addictions.
It's time you step away from black and go bold, how about Woow Super Glam 2?
Charity Work
Following the aftermath of Hurricane Sandy, Kelly joined Salvation Army to support victims of the disaster with their recovery effort.
Kelly and her mother helped Cyndi Lauper with the launch of Give A Damn campaign to bring awareness of the discrimination suffered by the LGBT community.
One colour theme is just not your thing. Get glasses with many hues like JOOP Eyewear 87228

Still keeping it within the family, read about her father, Ozzy Osbourne
Tag #SelectSpecSelfie for a chance to be featured on our page!
 Follow Us: