If you've seen One Direction around lately, you may have noticed that Niall Horan has been sporting a smart new pair of glasses. His style of choice are a simple yet sophisticated set of round framed glasses.
Until recently though, Niall has been frame-free (apart from his many pairs of designer sunglasses, of course) so, what's the reason behind his new specs appeal? Did a visit to the opticians reveal he needed glasses to see properly? Not quite. Niall revealed that he's started wearing glasses because he thinks they look good. During an appearance on Good Morning America, Niall was asked about his new look and confirmed that his eye sight was fine, and his new glasses are purely for fashion reasons.
Well, we can't argue with that – glasses aren't just a practical choice for those who are short or long sighted anymore; in recent years they've evolved to become a must-have fashion accessory which adds a certain something to a look, as Niall is proving.
The stylish glasses add a dapper edge to Niall's outfit and give him a more mature appearance as you can see in this red carpet photo from the AMA's, where he paired his new frames with a sleek navy suit.

Niall also wore a pair of round framed glasses with more casual ensemble while he was on tour in Mexico City a few days later. This time, he teamed his glasses with blue jeans, a shirt and trainers, but looked just as dashing.
Round glasses are so on trend right now and are a great choice for men and women who want to make a fashion statement as the style is easy to wear and suits most face shapes. As you can see, they look great with both smart and casual attire and add a cool retro vibe to an outfit.
If you want to get Niall's new look (or maybe convince your boyfriend to), SelectSpecs are here to help. We've found three perfect pairs of frames so you can steal his style with ease.
Hackett London HEB148
First up, we're not exactly sure where Niall got his glasses from but if we had to guess, we'd say they were from Hacket London. We think we may have found the exact same pair of glasses as the HB148 glasses look identical to his, featuring the same round black frames and silver dot detail on the sides.
Hugo Boss 0681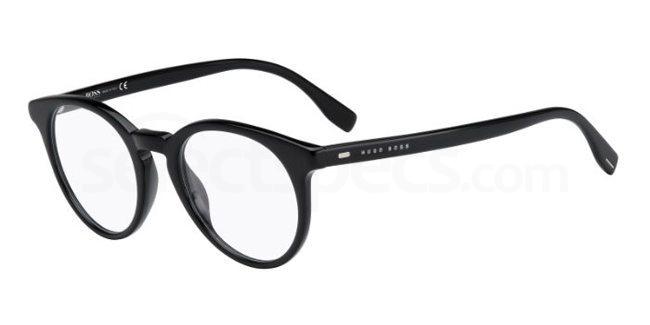 The Hugo Boss 0681 glasses are another amazing dupe for Niall's favourite round-framed glasses, featuring similarly-shaped frames and silver branding detail on the side. And if, unlike Niall, you do have problems with your eyesight, they're available with single vision, varifocal and bifocal lenses online at SelectSpecs.
Hallmark BL6289
Finally, if designer frames are out of your price range, you can get Niall's look on a budget with the Hallmark BH6289 glasses. Featuring round frames and finished in classic black, these specs look just like Niall's but cost only £29.50 online at SelectSpecs.
So what do you think of Niall's new bespectacled look? Would you wear glasses purely for fashion reasons? Let us know in the comment's below or send us a tweet @SelectSpecs.
Follow us: