Bold lips look great with glasses; this kind of advice has been said by most, tried by many. And whilst it's a great steer for spectacle and makeup newbies, there are over 10 million different colours visible to the human eye. So where on earth do we even start when it comes to colour selection? Well, fear not makeup fans! We've been researching some of the beauty industry's best colours and we've selected 4 fabulous shades that will work well with a pair of frames. If you wear prescription glasses, here are some daring lipstick colours that you just have to try this season.
Matte Orange Lipstick
If you want a bold lip with a retro twist, try teaming some cat-eye frames with a 60s inspired matte orange lipstick. This swinging sixties makeup look always seems to make its way back into fashion every year (it's always a hit in the summer so stock up for SS16) and there's a very Moschino-esque appeal about it. The style is incredibly sexy; you just have to make sure you don't overdo the base makeup as it looks best with fresh skin and a youthful glow.
TOP MAKEUP TIP: Add a little catflick to your eyeliner for super sixties style!
MOST COMPATIBLE SPECS: We think this catwalk colour works best with these stunning Moschino MO238V glasses in 01 Black or 03 White, or this budget-conscious but still stylish Antares frame.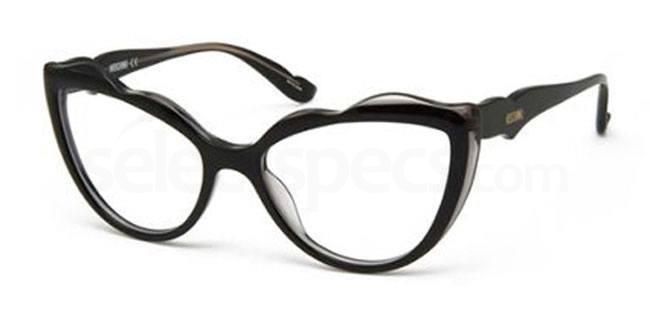 Classic Red Lip Gloss
You really can't beat a bold red lip; it's a total classic and it hasn't failed since Maurice Levy invented the first handbag-friendly metal cased lipstick back in 1915. But red lippy dates back way before silent movie stars and flappers of the 1910s and 20s got hold of the stuff. The first women to ever wear red on their lips is recorded as far back as the Ancient Egyptians. So it really is a tried and tested beauty formula. When it comes to making your lips pop with prescription glasses, we recommend adding a shiny layer of gloss. This look is both sophisticated and youthful, and we just love it!
TOP MAKEUP TIP: Use a little colour to warm up your skin but go easy on the bronzer because this look is all about the red lippy.
MOST COMPATIBLE SPECS: Match your red glossy lips with a pair of stylish specs like the Gucci GG3723 or the purse-friendly Savannah P2249.
Hot Pink Lipstick
Hot pink is such a trend-driven colour. It's fun, it's flirty, and it's probably as far away from 'classic' as can possibly be. If you want to inject a girly touch to your makeup look, we think hot pink is a great choice. The colour is playful by nature, making it perfect for a night out or a social event. And you'll be spoiled for choice with colour selection as there is a hot pink shade for just about everyone. Blondes can opt for a slightly more 'Barbie' pink whilst brunettes and redheads should go for a warmer, richer pink.
TOP MAKEUP TIP: Use a little lip liner to add definition to your lip but make sure you blend it in with a lip brush!
MOST COMPATIBLE SPECS: Go for classic black frames like our Ray Ban RX5184 New Wayfarer.
Vampy Purple Lipstick
Winter calls for vampy lips, but since when does dark lipstick have to be boring, eh? Every winter, we see the same mulberry reds, burgundies, deep purples and plum shades hit the makeup shelves *yawn*. Wearing dark lipstick has become somewhat of an AW ritual and it's often teamed with dark smokey eye makeup. But we want to mix things up and style a vampy lipstick with some coloured frames instead.
TOP MAKEUP TIP: For super daring lips, try ESP by Illamasqua, Violetta by MAC or Insolent Plum by Estee Lauder.
MOST COMPATIBLE SPECS: Go all out with the purple hues and dare to wear the Oakley OX1108 THROWBACK.
Have we missed out your favourite glasses and bold lip combo?  Don't shy away, let us know in the comment section below or shop for glasses under our colour filter.  Remember, don't be afraid to go bold.