It looks like winter has well and truly arrived, with darker nights and cold, wet weather all round, making us want to wrap up warm and hibernate at home under a blanket. As the skies fill with grey clouds, the pretty pastels and cheery brights of summer outfits are left behind, swapped for darker shades and muted tones in our wardrobes.
While we're not denying that wearing black, grey and navy can look super chic, a pop of colour can be a welcome addition to winter dressing. Vibrant shades will add contrast and interest to an outfit, so don't let the dreary weather dull your style. Why not brighten your look with coloured glasses?
To transform your winter ensembles, here are five fabulous styles in a rainbow of shades.
Beautiful Blue Frames
Forget boring black specs for winter; go bold with blue glasses instead. Blue will perfectly complement cool-coloured clothing such as grey while adding a brilliant touch of brightness to your winter look.Blue glasses are also perfect for blue-eyed gals, as the colours will bring out your peepers for a stunning effect. Choose from a range of shades, from sky blue and turquoise to sophisticated navy. We love the Dior CD3260 glasses in vivid cobalt blue which feature modern square frames and a speckled effect.
One of our Fashion Ambassadors Laura shows us just how amazing blue glasses can look, with our stand-out Savannah 8122 specs in bright blue rubber.
Glamorous Green Glasses
Green glasses are perfect if you want an intriguing and captivating look. While bright lime and mint green shades may be a bit too much for the winter months, soft jade and emerald tones will look amazing with the blacks and navys in your wardrobe. Green framed glasses are unique and look particularly amazing on those with brown eyes or red hair. For a look that will make others green with envy, check out the MaxMara Occhiali glasses. These special specs are finished in a beautiful shade of teal green with elegantly shaped frames.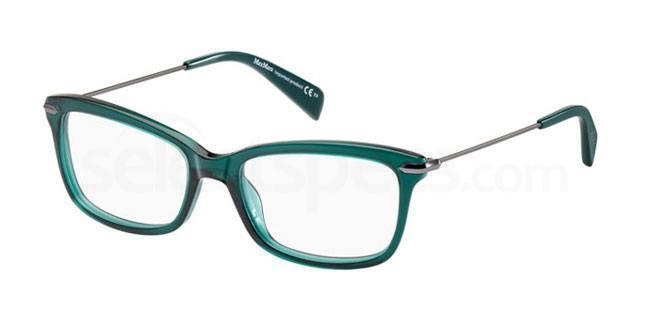 Red-hot Specs
If you love to make a statement and stand out from the crowd, go for a daring and dashing red shade of glasses. Red specs will add a sexy edge to your look while contrasting perfectly against dark colours. We think everyone can pull of the red glasses look if they wear them with confidence. Brighten up even the most miserable winter's day with the Massimo A106 glasses. These striking glasses feature retro-inspired wayfarer-style frames finished in a glossy dark red.  
Take inspiration from actress Emmy Rossum, who loves to accessorise with colourful specs all year round. We love this vibrant red pair which look amazing with her brunette hair.
Awesome Orange Glasses
Ever considered wearing orange glasses? We thought not, but this bright shade can actually look amazing with warm tones such as brown and camel which many of us wear in the winter months. Orange is a happy colour that will cheer you up on drizzly days and will add a glow to your face. Orange glasses look particularly great with dark hair and create a contrasting look against green and blue eyes. If you're not convinced about orange glasses, take a look at this pair of stylish specs from Fendi. The Fendi FF 0055 glasses combine orange arms with tortoiseshell frame for an easy way to pull off this look. We love the classic wayfarer style.
Pretty Pink Frames
For a rose-tinted look, pink frames are perfect. Pink is a super flattering colour that looks lovely on most ladies. Pretty pastel shades are feminine and flirty and will add a beatiful blush of colour to muted winter outfits while, if you're feeling a bit more adventurous, hot pinks will really pop. Pink glasses also have a retro feel about them, inspired by the candy colours of the 1950's. Get the girly look with the Antares 8973 glasses which feature soft rounded frames and are finished in a lovely lilacy pink shade. Transparent frames reveal the interior of the glasses, ensuring that these stay contemporary and not overly sweet.

This cool customer knows how to pull of the pink look, wearing our Savannah 8122 glasses in pink rubber. We love the matching pink lipstick.
Swap your plain frames for colourful glasses this winter with the help of our colour filters and bring your look to life – we dare you!