The new Marc Jacobs eyewear collection for Spring/Summer 2017 will get you dreaming.
Inspired by the great 80 and electro-disco nights, the new "Twist" collection is a mixture of sophisticated pieces to flaunt in these coming months.
Marc Jacobs is always one step-forward in matters of trends and modernity. His collections are unique and avant-garde with a theatrical edge. The new collection is not an exception.
Refined and colorfully detailed frames make them the coolest accessory you can wear this season.
Starring model/blogger Kiko Mizuhara, the short advert is an explosion of glamour.
Let's have a look at these new unmissable pieces!
Kiko Mizuhara For Marc Jacobs
Blogger Kiko Mizuhara is the starring diva of the new short advert video for Marc Jacobs. We see her enter a small bodega, and when she stumbles while wearing the new "Twist" sunglasses her reality goes fluoro!
Suddenly transformed into an 80s diva, she starts dancing in a new technicolor world with an electronic music in the background.
The overall scene reminds us of Corean "vintage" style which is really in vogue this season.
The first pair of super cool sunglasses worn in the video are cat-eye with embellished detailing using a combination of pink and green embroidery.
If you also want to feel like a "diva" try the  Marc Jacobs MARC 15/S sunglasses:
Another trendy shot from the video is this section where she is wearing a pair of square cat-eye framed sunglasses.
The thick black frames and architecture of the sunglasses are really unique and cool at the same time. Can be worn during the daytime, and most importantly, during your wild rave parties.
Try these Marc Jacobs MARC 116/S sunglasses if you want to get cat-eye cool: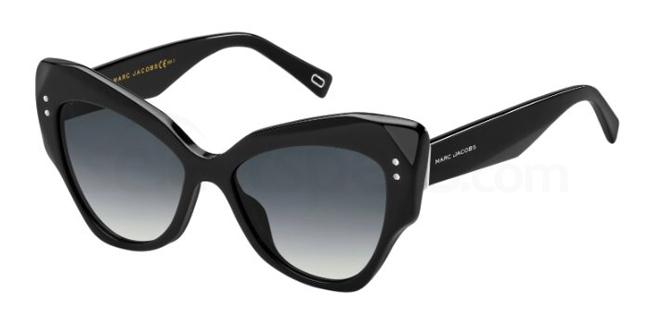 Chic Aviators
These new metallic aviators are a special pair of refined and modern sunglasses revised by Marc Jacobs.
Perfect for adding a precious touch to your everyday look and to enhance your personal style.
Hurry up to get these Marc Jacobs MARC 168/S sunglasses if you cannot resist Kiko's style:
    Oval Sunglasses
One of my favorite shots of this new Marc Jacobs advert video is the pic above with an ultra modern look.
Kiko is stunning with her hair pulled back, clashing print jacket and metallic round oval sunglasses: a must to be copied for special nights.
A fashionable mixture of sporty elegance to be worn with unmistakeable nonchalance.
Try these Marc Jacobs MARC 169/S  pink oval sunglasses if you want to copy her look:
Let us know, in the comment section below, which of the new fantastic Marc Jacobs sunglasses you like the most!
For more Designer eyewear inspiration, take a look at Just Cavalli's Eyewear for 2017
Share your picks with us at #SelectSpecsSelfie
Follow Us: