From retro round and novelty heart shapes to extreme geometrics and perfect squares, lenses have been going shape crazy in recent years. Classic oval frames and rectangular silhouettes are taking a bit of a backseat as eyewear designers experiment with new creations that break the common mould.
In 2017, designer collections move away from the norm and bring us exciting new lenses that will frame our face in ways we've never experienced before. Think octagons, think hexagons, think unusual geos, think lopsided, think topsy turvy and upside down, think deconstructed and inside out. Here are some of the weirdest, wackiest and most unique shapes to try this year…
Prada PR 16RS
Are these square? Are these round? Are these hexagonal? We're not really sure but we know that we love these irregular shaped Prada sunglasses because they're so different. Give your all black look a 2017 makeover with these striking, bold and ultra glam Prada PR 16RS glasses. They'll look great for any occasion and they'll make your regular oversized sunnies look totally boring… *yawn*…

Buy Now »
Miu Miu MU 06OS
These pretty pentagon lenses from Miu Miu will look gorgeous for almost every face shape! This fabulous frame is a contemporary take on classic black shades and it features stylish metal detailing on the nose bridge and temples, whilst having a full rim black acetate frame front for a classic touch. These are serious show stoppers and a great accessory for SS17.
Moschino MO598
A mix of two hot trends, butterfly lenses and heart lenses all rolled into one. Ar first glance, these frames feature a beautiful butterfly silhouette. But look a little closer and you will notice that the lenses are two hearts turned on their sides. How adorable! The shape of these sunglasses are perfect for softening a strong jawline or chin area, so they are super flattering.
Prada PR 16RS
If you love the butterfly lenses look, then these Prada PR 16RS sunglasses are made for you. They feature a supersized look and an exaggerated shape so you will definitely turn heads with these frames. Unique and very Hollywood glam…
Chloe CE707S
Get the Chloe girl look with a twist in 2017 with these fashion forward Chloe CE707S sunglasses; designed with an upside down / topsy turvy frame that features the arms coming from the bottom of the frame front. Definitely one of the more edgy designs to come from the Chloe collection to date.
Vera Wang Luxe MERITA
The Merita sunglasses from Vera Wang are ultra retro and will look great for beach holidays, cruise holidays, summer events or music festivals. The one lens visor look is such a hot look right now and the all black finish will blend in seamlessly with the rest of your wardrobe. Definitely a style statement for confident dressers.
Karl Lagerfeld KL906S
Made with an infinity frame design, these Karl Lagerfeld glasses don't come with a nose bar. Instead the figure of eight rim meets together in the middle to form a bridge where your nose can sit nicely and the seamless frame front allows for comfortable, all day long wear. A very fun, futuristic yet feminine take on classic black sunglasses and looks great for all occasions.
Prada PR 06SS
Perfectly hexagonal, these Prada sunnies are a must-have for anyone who loves geometric shapes. Take the oversized lens to a whole new level and forget the classic round / oval silhouette. This year, it's all about funky six sided architecture and we just can't get enough of the playful Prada collection right now. Shop the look with these Prada PR 06SS frames at SelectSpecs.
Marc Jacobs MARC 116/S
Cat eye is back in 2017 but this time, it's more exaggerated than ever. And instead of following the usual retro formula, this year's cat eye frames are twisted in with the modern. A hybrid of timeless style and futuristic fashion! These Marc Jacobs MARC 116/S frames feature a cool cat eye look with an extended 3D effect frame front – fashion forward yet classic at the same time.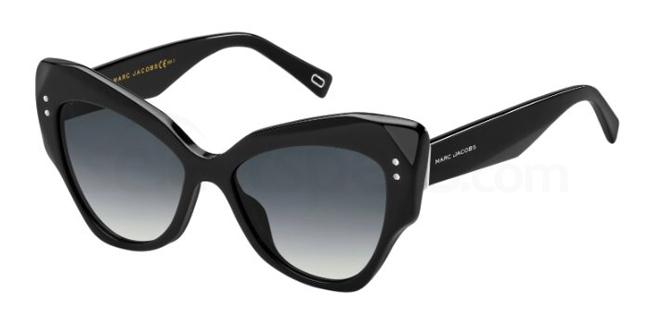 Want to get the hipster look with your prescription eyewear. See our recent blog post about trending hipster frames!
Tag #SelectSpecsSelfie for a chance to be featured on our page!
Follow us: