If you haven't seen the Jimmy Choo Vivy sunglasses yet, you have to check them out over at SelectSpecs.
With the autumn season rolling in, these fashionable frames are the ultimate must-haves as they offer so much versatility for just about every occasion. Featuring a unique detachable jewel clip on that adorns the frame front, these stylish sunnies can go from embellished chic to understated glam.
Whilst the removable embellished jewel corsage looks fab for festivals, summer parties, beach holidays and day-to-night soirees, the simple frame on its own is an ideal all-season look that can see you through from the summer months to winter.
As worn by the cool, gorgeous and quirky Chloe Sevigny for the current Jimmy Choo campaign, the Vivy glasses are a go-to design for instant glam.
And removing the detachable jewel clip on from the Vivy sunglasses couldn't be easier.
Simply unclip and lift away from the top of the frame front and you'll have a brand new pair of shades in seconds! Choose from embellished party vibes all the way to simple, sophisticated style.
There are 3 fabulous colours to choose from too. So you can find the perfect pair of detachable gem Vivy sunglasses to complement your wardrobe style and personality. Take a look at the 3 gorgeous Jimmy Choo Vivy colourways below…
Jimmy Choo Vivy In Black
These black Vivy sunglasses are perfect for all year round wear. The black colourway is oh so sophisticated and the detachable frame front jewels combine black and gold for a grown-up sort of glamour. Great for the AW season and just as fab for winter sun getaways.
SHOP THE LOOK: Get the Jimmy Choo VIVY/S in Black / Gold 
Jimmy Choo Vivy In Pink
The soft and sensual pinky / nude of these Vivy frames are perfect for elegant, feminine outfits that just need a touch of quiet glitz and glam. The neutral tones mean that you can team these shades with almost anything in your wardrobe and this style will look beautiful all year round. Perfect for a summer wedding or a winter ski holiday.
SHOP THE LOOK: Get the Jimmy Choo VIVY/S in Pink / Gold 
Jimmy Choo Vivy In Opal Grey
If you want an on-trend colour that complements a day to day wardrobe, the Vivy sunglasses in Opal Grey are ideal. They icy blue / grey tones and clear gem stones offer a look that is perfect for winter; and when you remove the detachable jewels, you will be left with a simple and elegant looking frame that can see you through every season, every occasion, every outfit.
SHOP THE LOOK: Get the Jimmy Choo VIVY/S in Opal Grey / Gold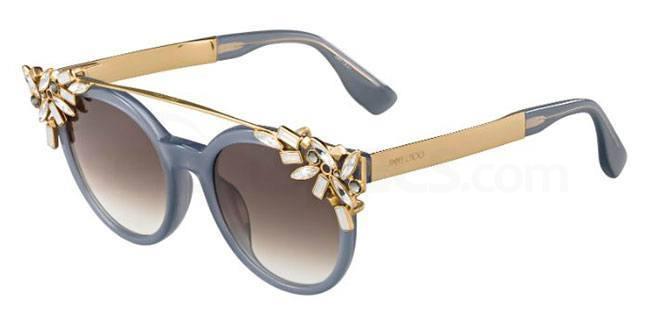 Love bejewelled shades for a girly finishing touch? Check out this post for more on the glitzy new trend.
Share your best shadey selfie with #SelectSpecsSelfie
Follow us: