It is almost impossible to think about some of the best action movies' characters without their sunglasses. Just try thinking about Arnold Schwarzenegger in Terminator, Tom Cruise in Top Gun or Daniel Craig as James Bond in any of the saga's latest movie.  (Although we did identify his shades in Spectre here.)
We have to admit that few things in the world make a guy look cooler than a trendy pair of shades. And if the words cool, trendy and shades go together in the same sentence, Ray-Ban is sure to appear before or after any of them.
Ray-Ban's marketing gurus know better than anyone else that the best sunglasses ever put on film are more than just nice accessories, chosen by chance. A pair of shades mean something to the character and they say something important about him. In some cases, the main character of a movie has been elevated from cool to the status of legendary purely thanks to a great pair of glasses.
Ok, you might not be a movie star but your style can still be legendary with a pair of awesome Ray-Bans which will not break the bank! Have a look at these five timeless models of Ray-Ban that have become cultural icons and choose the one that suits you best.
Need some examples?
1.    Ray-Ban Wayfarers in The Blues Brothers
The Ray-Ban Wayfarers worn by John Belushi in The Blues Brothers is a true icon of the movie. It's difficult not to notice them as John Belushi wears them for nearly all of the movie! The
Ray-Ban RB2140 Original Wayfarer
 convey perfection in the eyes of many sunglasses fans, the excellence and distinction the brand represents is second to none, they've never been off trend.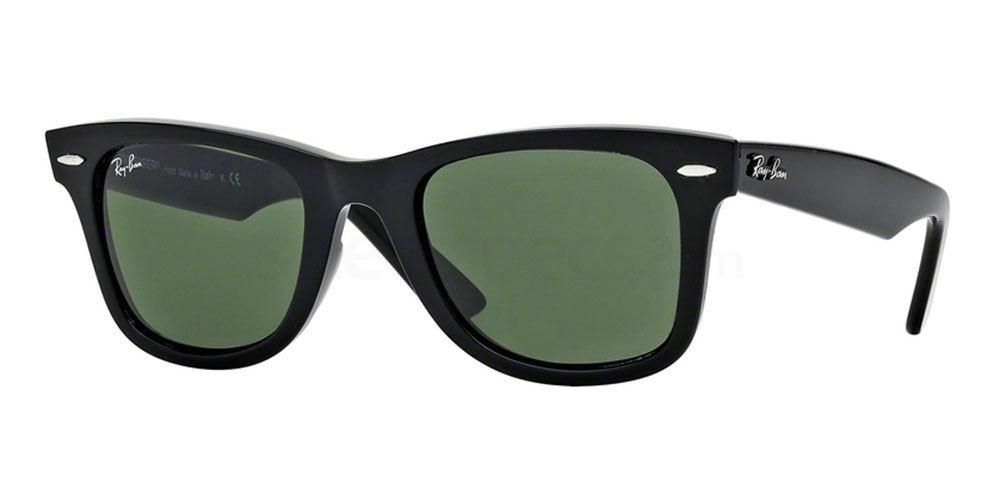 2. Ray-Ban Clubmaster in Reservoir Dogs
The cult film featured Clubmasters namely on Tim Roth as Mr. Orange. The Dogs wear a variety of nice shades but the
Ray-Ban 3016 Clubmaster
are the best in Tarantino's first feature-length film. This fashionable model will help you achieve the quintessential 50's and 60's look you've seen plenty of times before. The Ray-Ban Clubmaster was also worn by Denzel Washington in Malcom X, released in the same year as Reservoir Dogs; 1992.
3. Ray-Ban Aviator-Caravan in Taxi Driver
This eye-cachy gold frame with horizontal bands and a nose bridge is an innovation of the classic aviator model that Ray-Ban introduced in the late fifties. They were still revolutionary when Robert de Niro wore them in Taxi Driver in 1976 and was seen on Arnold Swarzenegger in the latest Expendables movie. The
Ray-Ban 3136 Aviator -Caravan
glasses are a timeless and iconic model with a contemporary Indie flair that makes them a design classic.
4. Round Ray-Ban in Natural Born Killers
Natural Born Killers may be one of the most controversial films of the 90's featuring random, senseless violence, the kind we don't like to think about. Wearing the round
Ray-Ban 3447
, however, doesn't necessarily mean that you are a remorseless killer like Woody Harrelson in Oliver Stone's movie. It means that you are a fan of all things 60's, hippy lifestyle and probably John Lennon's philosophy. Round Ray-Bans can be worn with just about any kind of outfit though and are both chic an edgy.
5. Ray-Ban Predator in Men in Black
The
Ray-Ban Predator 2
is the style worn in "Men in Black" by Will Smith and Tommy Lee Jones in 1997 and they still look as cool today, almost 20 years later. This model takes on the traditional rectangle sunglasses design to the next level and their wrapped fit creates a sporty look that is both casual and chic.
As you can see, Ray-Ban have been a movie favourite throughout the decades: from the 50's Hollywood glam with James Dean's "Rebel Without a Cause" up to our present days.
2010 saw Ray-Ban Aviator's turn back in the spotlight when several music and film icons started wearing them again.
Tell us which your favourite Ray-Ban movie model is if we've missed it! Leave your comments below or tweet us @SelectSpecs on Twitter.