Rihanna has blazed her way back into the spotlight with both her smash hit single 'Work' ft Drake and her album 'Anti' hitting the top charts around the world. Hailing from Barbados, Rihanna is effortlessly cool and with a whopping 35.8 million Instagram followers she has earned her icon status!
Known for her outstanding style, she's no wallflower when it comes to fashion and her eyewear is often a focal point of her looks, so here's a selection of some of her best examples to date.
1.  Oversized Boho

Rihanna's laid back sunny selfie is enough to make you long for hot summer days by the beach, cocktail in hand and fab sunglasses to boot! These oversized round gold frames with a brown tint look fantastic with plenty of gold jewellery and a glossy lip, they suit her style perfectly and are ideal for summer holidays.
We're not too sure where these glasses are from, but we've found a very close match with the Escada SES859
2. Futuristic in Dior
Ever the style chameleon Rihanna looks edgy and effortlessly cool as the face of Dior with a chic blunt bob, bold lips and statement shades.
The DiorReflected frame is a great match with the metalic face and cool double bridge, you'll be chanelling your inner diva in no time!
3.  Rose-tinted Glam

Appearing again as the face of Dior, Rihanna wears the DiorMirrored frame with rose tinted lenses and a pretty pink lip. She shows her softer side as the rose tint gives a feminine glow to her face combined with her sleek wavy hair and girly earrings.
Follow her style and add a tint, or leave the original lenses in for an edgier look!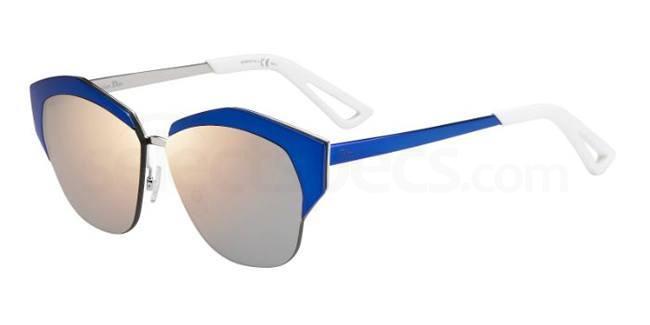 4.  Classic Wayfarer
The Ray Ban Original Wayfarer never goes out of style, they have a cool retro feel making it easy to add a stylish twist to any outfit.
This frame has been worn by some of the most fashionable people in history such as President Kennedy and Marilyn Monroe as well as more current celebs like David Beckham and of course Rihanna! You can never go wrong with a classic.
5.  Sassy Cat-Eye

Rihanna maintains her effortless chic look with a pair of classic over-sized Cat-Eye sunglasses, which look a lot like the Prada PR08RS.  
With a Dior bag and a slick of lipstick who wouldn't be ready to conquer the world!
6.  Sixties Bug-Eye
Channel Riri's chic modern look by wearing all white and topping the look off with some statement shoes and statement specs!
This large round Prada PR06RS frames are perfect for hiding behind after a long day's shopping or a long night's partying, add a dark grey tint and wear with confidence like this you're bound to feel like a celebrity!
7.  Pink Aviator
These fab pink sunglasses are brilliant for adding a fun pop of colour to your outfit, ideal for relaxing by the pool on holiday or wearing all through summer.
Rihanna shows her laid back style with a super girly twist and looks endlessly cool doing it! We're not sure which frames she's wearing but the Juicy Couture JU562S frame is perfect with pink mirrored lenses and classic aviator shape.
So which of Rihanna's shades do you like the best? Have you found a new style crush?
Instagram your best summer shades and tag us at #SelectSpecsSelfie or tweet us @selectspecs so we can all dream about a summer of fab shades!
Follow us: