Queen Bey needs no introduction. From record-breaking musician to progressive change-inciting activist, to international style icon, Beyoncé is a globally adored tour de force.
If she isn't sending fans into meltdown with surprise album drops and flawless, powerhouse performances, Bey can be relied on to document killer looks for her 109 million fans on instagram.
While known for her chameleon style, Bey's one recent constant is her penchant for statement monochrome frames. Think classic shapes with a killer twist!
Whether it be simple, slick contrasting detailing or more obvious embellishment, Bey always knows the perfect frames to complete her looks.
Read on for a rundown of our favourite shades, and how you can steal the megastar's style!
Bey in Burgundy
We adore this burgundy look from Queen Bey. Wearing a long-sleeved top with tie detailing paired with skin-tight trousers, her look is accentuated with matching hot pink stripes – a cool twist on a typically off-duty tracksuit look.
Her look is lifted with her oversized monochrome shades. Circular lenses are framed with slick white detailing along the rims, and we couldn't be more about it.
We love the statement accents on the bold Prada PR 07TS – a seriously stylish pair of shades that we think would get the royal seal of approval from Bey herself. Grab them for your own slice of eye-popping eyewear!
Retro Chic
It's all about the retro-chic glamour in the colourful shot above. Bey's flamenco-flavoured off-shoulder dress has us dreaming of warmer days gone by, but for us it's the killer accessories that really steal the show here.
A simple bracelet, oversized hoops, and cream clutch set the look off perfectly, while her retro frames give a classic vibe.
It's safe to say we're sold. Grab the simple, chic Salvatore Ferragamo SF835S to steal Bey's style and rock your own retro style!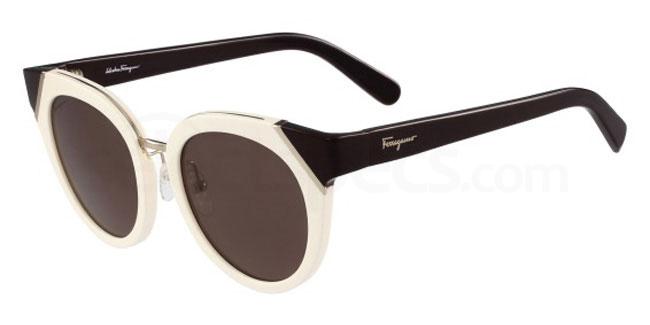 Whether it's slaying in high fashion pieces or working off-duty separates, you can rely on Bey to dress to impress.
Adorning a relaxed black and white linen top paired with light-wash denim shorts, it's the perfect look for balmy beach days.
We're in love with Bey's monochrome frames here, too. Accents of white frame the rims of her singular lens, creating a striking, unusual look. The futuristic frame is the perfect way to elevate a more relaxed look into something instantly high fashion.
Grab the Versace VE2172B for a great match, and steal Bey's style!
From futuristic frames before, to the throwback 60s frames above, Bey has a great eye for the perfect complimenting shades.
Pairing a cropped white tee from her own Ivy Park activewear collection with a ruffled pinstripe skirt and simple navy and cream bag, it's a mishmash of looks that work with Bey's slick styling and forward-thinking fashion.
We're loving Bey's retro frames here, and you'll be hard pushed to find a cuter match than the Salvatore Ferragamo SF831S – a gorgeous wayfarer/cat-eye hybrid that ticks all the boxes!
Statement Shades
Statement embellishment is the name of the game in the slick snap above.
We're loving Bey's cropped royal blue hoodie, paired with a zip-up bodycon pencil skirt and cute tan bag, but it's her dazzling shades that really steal the show.
Featuring bold and brash embellishment on oversized frames, they're the kind of unapologetic accessory we've come to love from Queen Bey.
Go big with the Dolce & Gabbana DG4291B – an explosion of colour and expression that promise to leave an impression.
Check out our look at fashion blogger Stephanie Hill's best eyewear looks!!
Tag #SelectSpecSelfie for a chance to be featured on our page!
Follow us: