Rowi Singh is best known as an Australian-Indian style blogger who resides in the city of Sydney, Australia.
The star runs a highly successful blogging website which is self-titled.
Typically, she creates regular posts on different topics such as fashion, beauty and culture.
Singh's sense of style is definitely incredibly unique, with hints of her Indian roots shining through.
She could be described as having a style which is heavily inspired by vintage fashion, with slight athletic and urban influences.
We personally really adore her interesting and off-beat fashion sense.
Therefore, lets have a peek at the best eyewear looks from Rowi Singh in the last few months!
Starry Eyed
Miss Singh is looking ever so fabulous in this gorgeous look.
In this quirky shot, Rowi is sporting a sheer mesh top with a black star print.
We are loving the fact that she has paired it with a matching denim skirt which has been frayed at the hemline.
Fishnet socks, Bowie inspired silver boots, and a matching jacket to finish the look.
Rowi has also added a pair of on-trend rounded specs for further interest.
Steal Rowi's style with these similar MAX&Co. 320/S sunnies from our online range.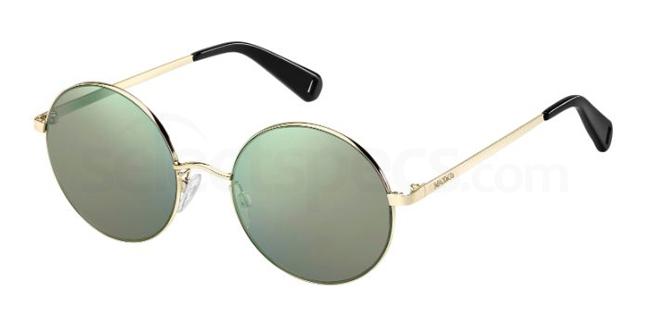 Sound of the Underground
We are loving this urban themed look from the blogger.
Singh is styling up a plain black tee with some fancy looking satin style joggers – giving more of a street inspired edge.
Platform trainers and some statement jewellery pull the look together.
Rowi has also included some snazzy specs into the mix.
Get Rowi's look with this pair of similar Adidas Originals AOM003 sunnies from us.
Hot Like Fire
What a bold and vibrant look from the blogger star.
Rowi is repping a yellow t-shirt dress in this shot, complete with a pair of striking red shiny heeled boots.
We are loving this fitted denim jacket with spectacular flame embroidery down the arms!
A beret style hat adds a chic feel to the ensemble with the addition of some epic sunglasses.
Get Rowi's look with this pair of similar Calvin Klein CK3189S specs for more subtlety.
Trendy Textures
What a sick look from Rowi!
The blogger is wearing a black glittery mesh top, accompanied by some casual black jeans.
The addition of a faux fur jacket makes the outfit suitable for the unpredictable weather at the moment.
A matching shoulder bag, oversized earrings, and a baker boy hat are the perfect accessories to add a unique vibe to the outfit.
Singh is also sporting this pair of cat-eye shaped specs which are so darn chic!
Get the look with these Giorgio Armani AR5068 examples from us.
Grungy Vibes
The last look from Rowi is a beaut!
In this cool shot, she is looking splendid in this gothic themed outfit.
A high necked velvet tee with a floral print is the perfect introduction to the cooler months.
Some relaxed jeans and a PVC style jacket adds a real 80's feel to the ensemble, which we love.
Her statement drop earrings are ever so current, with faux fur being a popular fashion trend right now.
Rowi's look is complete with these shaped sunnies.
Steal her style with this similar pair of MICHAEL KORS 0MK1022 TIA specs from our range.
Tag #SelectSpecsSelfie for a chance to be featured on our page!
Follow Us: