Choosing a new frame can be a tricky task, finding a pair to compliment your style, personality, and of course your face, is no mean feat! A pair of glasses can transform your look and give you a fresh wave of confidence, but with so many to choose from where do you start?
As a plus sized lady finding frames to compliment a fuller round face can be challenging, but I've got a few tips to help! So here's a breakdown of everything you need to know to unleash that budding fashionista within with some fabulous new eyewear.
The Golden Rules:
With so many frames on the market it's useful to have some basic rules to narrow down the search for your dream pair;
For wider faces a lens width of 51mm+ and a bridge of 17mm+ are best for a more comfortable fit and to ensure the frame is in good proportions to your face.
Frames that are wider than they are deep are best to make the face appear narrower, and balance your features.
Stronger colours and thicker full rimmed frames will ensure your glasses stand out on your face and draw attention to your eyes, where weaker colours and thinner or rimless frames may not be as complimentary.
Avoid round or oval shapes and this emphasises the roundness of fuller faces.
Rectangular Frames:

Round faces suit rectangular frames perfectly, the straight edges and strong angles help to contrast the curves of your cheeks and bring balance to the face. This shape combined with a thicker frame will help fuller faces look in smaller proportions, so a bold rectangular frame is ideal.  Darker coloured frames will also help draw attention towards your eyes and make them appear brighter.
The Rodenstock R5278 is available in two sizes and a wide range of colours, so you're sure to find the perfect pair. With a wide lens and generous bridge it is great for fuller faces, and is only £97.02 at Selectspecs.
The Hallmark 8811 is a simple classic rectangular frame in great proportions for wider faces, available in Black, Havana and Black and Clear for an interesting alternative. Only £29.50 at Selectspecs.
Go for the geek-chic style with the Savannah 2444 available in Black, Black and Blue, Havana and Animal Print. These strong frames balance round full cheeks and the classic style goes with any outfit, and for only £10.00 you can't go wrong!
Bold Angles:
If you're the fashion forward type a fuller face is ideal for pulling off bold angular frames and statement eyewear. Why not make your glasses a central part of your look? Plus sized faces are fortunate enough to not be dominated by bold frames, as round cheeks balance frames which would otherwise be overbearing on others. So take full advantage! Be bold, be brave, be effortlessly cool by stepping out in some fabulous statement specs!
Miu Miu are renowned for their bold frames with strong angles and chic style that can be found nowhere else. If you want your eyewear to stand out and bring effortless style to your look there's nothing better than the MU03OV £166.32 at Selectspecs!
The Fendi FF0088 is a great example of bold outstanding angles making it a unique and interesting frame. Unlike other face shapes a round face with fuller cheeks is ideal to balance out the strong angles of this frame, and stop it dominating your features. Ideal for anyone looking for eyewear with a modern trendy style the Fendi FF0088 is only £161.01 at Selectspecs.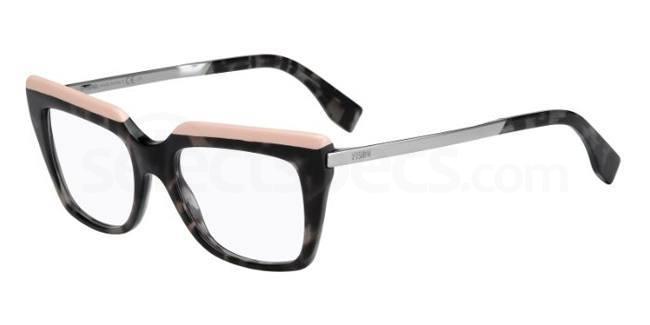 The Antares K9077 is a fantastic statement pair available in 3 bold but wearable colours to showcase your eyes and bold style. For only £60.00 at Selectspecs it's easy to add a daring twist to your look.
Cat Eyes:

The classic Cat Eye frame calls to the 1950s retro diva in all of us. This timeless style is chic, feminine and brings out our inner Marilyn Monroe, pout and all!   As the frame curves up at the sides it brings a natural lift to the face, and showcases those gorgeous cheeks! Not only does the shape compliment fuller faces it is also effortlessly stylish, team it with a flick of eyeliner and a smile and let your natural radiance shine through. This frame shape allows your to go all-in retro style, or bring a classic twist to a more modern look.
The Salvatore Ferragamo SF2731 is pure Italian elegance and style. If you're looking for a frame to transform you into a 1950's style queen, this is the one. Go for the classic black for a timeless look, or pick the ivory or blue to mix it up. Available for £155.11 at Selectspecs.
The Hallmark E9857 is almost identical to some of the eyewear worn by Marilyn Monroe herself, so how could they not be endlessly cool? The strong Cat Eye shape lifts the face and also gives your look a chic classic twist. For only £29.50 it's a great way to change mix up your style.
The Savannah 2439 is a subtle Cat Eye shape available in sleek all black, black and red and black and blue so its easy to find one to fit your style. The gentle Cat Eye shape is subtle enough to make it easy for anyone to wear, and the price is unbeatable at just £10.00 at Selectspecs.
Colourful frames:
As with more angular frames plus sized faces are fantastic at carrying bold colours too. Stand out from the crowd with some bright beautiful colourful specs, and let their boldness bring new confidence to your look.
Bright eyewear helps draw attention to your eyes and make them the focal point of your face, they can be teamed with more subdued clothing and make up, or they can be matched to your outfit to complete your look! If you aren't the type to try to hide your fuller cheeks away a colourful frame helps draw attention to your face, and when worn with confidence bring a radiant glow to your complexion.
The Jimmy Choo JC84 is available in a beautiful teal shade, and a more subtle navy shade. This classically flattering shape and style is perfect for anyone and is an easy way to add a pop of colour to your look! Only £179.24 at Selectspecs
Is pink more your style? Stand out in the Dior CD3774 in Red and Fuchsia for a bright girly look, only £177.32
The Savannah 8122 is available in every colour of the rainbow, so you're bound to find a pair to suit your style, and for £10.00 per pair you can have them all! 
Throw caution to the wind!
Ultimately fashion is all about confidence and happiness, and your eyewear is no exception. In order to truly represent your own unique style throw caution to the wind and the rules out of the window.
There are plenty of plus sized fabulous ladies disregarding conventional wisdom and rocking some fantastic frames, so why don't you do the same?
Share your fab new specs at #selectspecsselfie @selectspecs
Follow us: