Johnson & Johnson ACUVUE® VITA®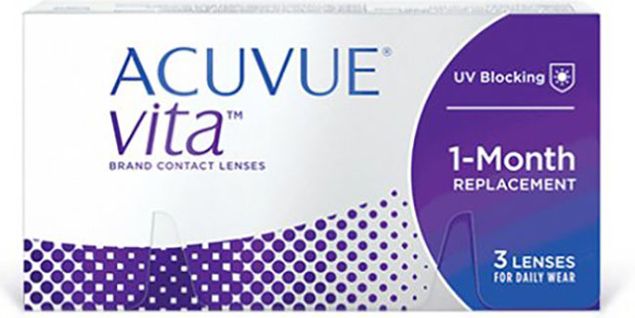 FREE UK & WORLDWIDE SHIPPING
Orders over ¥377.71
便捷的退换货
100% satisfaction guaranteed (FREE returns UK only)
Product Description
Product Description
Overview
ACUVUE® VITA® with HydraMax™ Technology is a monthly lens for patients who want a full month of comfortable wear from their lenses. It has a non-coated silicone hydrogel formulation balanced to help maximize and maintain hydration throughout the lens – providing reliable, superior overall comfort all month long.
HydraMaxTM Technology helps maintain lens hydration with reduced evaporation through the lens, with 33% less evaporation than other leading monthly lenses
With ACUVUE® VITA™, 98.9% of wearers get 6/6 vision or better after 1-month daily wear
The ONLY monthly lens with Class 1 UV Blocking.
INVISIBLE EDGE DESIGN so your eyelids glide over them as if nothing is there.
HydraMax™ Technology is an uncoated silicone hydrogel formulation balanced to help maximise and MAINTAIN hydration.
HYDRATION is MAXIMISED with the maximum amount of hydrating agent integrated into the formulation throughout the lens.
HYDRATION is MAINTAINED with optimal density and distribution of beneficial lipids throughout the lens.
HydraMax™ Technology helps maintain lens hydration with reduced evaporation through the lens, with 33% less evaporation than other leading monthly lenses
Key Benefits
Designed for a full month of comfortable wear
Includes technology that maximizes and maintains hydration throughout the lens
More comfortable all month long than any other leading monthly lens

 
Parameters
8.4 mm base curve/14 mm diameter
8.8 mm base curve/14 mm diameter
Power ranges
–0.50D to –6.00D (0.25D steps)
–6.50D to –12.00D (0.50D steps)
+0.50D to +6.00D (0.25D steps)
+6.50D to +8.00D (0.50D steps)
Lens Details
| | |
| --- | --- |
| Lens material | Senofilcon C |
| Technology | HydraMax™ Technology (silicones, PVP and matrix) |
| Oxygen transmissibility (Dk/t) (boundary and edge corrected)† | 147 × 10–9 (–3.00D lens) |
| Oxygen flux (% available to central cornea)§ | 98% (open eye) |
| Water content | 41% |
| Class 1 UV-blocking** | 93.4% UV-A, 99.8% UV-B​ |
| Center thickness at -3.00D (mm) | 0.07 |
| Visibility features | Visibility tint, '123' inversion indicator |
| Package size available | 3 lenses​ |
Product Details
Reviews
FAQ & Delivery