Celebrities are our #1 source of fashion inspiration. We can rely on their trend setting tastes for ideas on our wardrobe.
Magazines are full of their best looks and always-on-point outfits.
But what Celebrities adore most is to provoke fans by wearing rebel attitudes with matching attire, not losing the opportunity to flaunt the most eccentric and avant garde looks.
From Katy Perry, Sita Bellan, to Anna Vreeland, they all love to play with fashion.
Being " weird" is a charming part of playing their persona.
Fashion designers like Jeremy Scott, Riccardo Tisci and Thierry Mugler on the other hand, cannot resist to give celebs inspiration through custom made pieces for their regular appearances.
Looking at fashion and life like a theatrical triumph.
Let's have a look at the most eccentric celeb looks of 2017.
Glitter Chic on Anna Vreeland
Anna Vreeland posed alongside Patti Wilson for Vogue Italia in the snap above.
She is the grandson of Diana Vreeland, famous editor in the field of fashion.
Both family members share a passion for fashion.
In fact, Anna V. is now one of the most requested models of the moment, and make a difference everywhere she goes.
She is eccentrically cool with a white grungy fur look, accessorizing with a pair of glittery oversized sunglasses.
Luxurious and captivating, these Marc Jacobs MARC 179/S/R sunglasses summarize the above look through one accessory:
Katy Perry Glam
Katy Perry is the queen of  capricious looks.
She always plays with fashion and likes to combine the un-matchable.
We have seen her many a times wearing unconventional outfits bordering the edge of bizarre, but never un-cool or vulgar.
Katy always keeps it glamorous.
Pictured above at the 2017 Met Ball 2017, Katy wears a pair of pink suspenders and glitter mantel. Stylish indeed.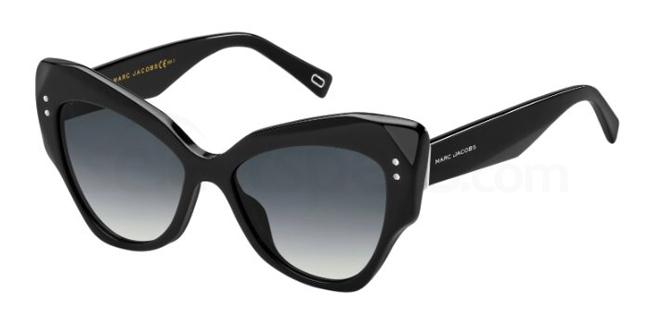 Eccentric Kendall
https://www.instagram.com/p/BQoQ5Pzj9Ow/?taken-by=kendalljenner&hl=it
We couldn't leave out Kendall's look in this post.
Yes, she may not be the most eccentric model of the moment, but her looks are always on point, and she also likes to experiment a lot.
We can see, in the pic above, how she has matched a pair of small retro black sunglasses, really in vogue this year, with a pair of large diamond earrings.
A strong contrast makes this look fantastically cool.
Sita Abellan
This widely loved techno princess is dressed by big name designers such as J. Scott, Riccardo Tisci and Olivier Rousteing.
Sita loves to match uncommon pieces with a strong colour contrast just to have fun.
In the snap above, she is wearing a sexy green swimsuit with a pair of "pied de pois" fantasy sunglasses.
Even if it is not what we can call a sober look, it is undeniably hot, and avant garde for this summer.
These Dolce & Gabbana DG6108 sunglasses are a good match to Bella's.
Sophisticated and eccentric at the same time, they will not let you go unnoticed.
Let us know in the comment section below, which of the above eccentric sunglasses you like the most
Tag #SelectSpecSelfie for a chance to be featured on our page!
 Follow Us: