Her journey into the entertainment industry started when she performed in a local production called The Ugly Duckling. As a result, many doors of opportunity opened up for Kelly, such as becoming the co-host of talk show Live, creating her activewear line and co-owning a production company.
Kelly is an actress, producer, talk show host and entrepreneur.
The Dancer
Her first major appearance on TV was when she performed as a dancer in a music reality show called Dancin' on Air and Dance Party USA.
Looking for that perfect pair of sunglasses to wear on the beach during your summer vacation like Kelly pictured above? Have a look at the Carrera CARRERA 1004/S
Actress & Talk Show Host
Kelly worked as a cast member for daytime soap opera: All My Children. She played the role of Hayley Vaughan for 12 years. Also, she had a role as an unemployed ex-soap star in Hope and Faith.
Towards the end of her role in All My Children, Kelly had become a co-host on the ABC morning talk show called Live with Kelly, until May 2017 when it became Live! with Kelly and Ryan.
The talk show won its first Daytime Emmy Award for Outstanding Talk Show Host 2012 and for the fifth time in 2016.
Are you in need of the perfect unisex reading glasses for you and your hubby? How about the Paul Smith PM8222U LOGGAN in onyx? Other colours available are dusty mint and oak.
Film Work
Kelly appeared in few films as an actress and voice over. In 2003, she starred in TV animated series Batman: Mystery of the BatWoman.
In the role, she played the voice of a fictional character named Dr. Roxanne 'Rocky' Ballantine.
Other film appearances include The Great Buck Howard, Ugly Betty, Damages, 30 Rock, Broad City and Nightcap.
You are happy with all your black sunglasses, but now is the time for something bright. Is Kate Spade DEANDRA/S your cup of tea?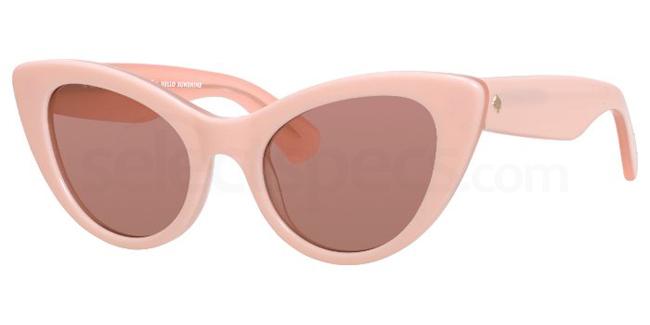 Other Ventures
As well as having her own activewear line called The Kelly Ripa Collection, she's also a spokesperson for Electrolux and Rykä.
Rykä is a footwear and sportswear brand solely for women.
She is an active supporter of women's issues such as The Ovarian Cancer Research Fund and MADD (Mothers Against Drunk Driving).
In 2007, she found a production company called Milojo with her husband.
A few films have come out under Milojo and have featured at the Tribeca Film Festival. They include Emmy-nominated documentary The Streak and Off the Rez.
Other productions include a docu-series called Masters of Reception, and a short film called "The Bensonhurst Spelling Bee" featuring Ripa and Homemade Millionaire.
Homemade Millionaire is similar to the UK version of Dragon's Den: a reality series featuring aspiring inventors and entrepreneurs taken from public auditions.
With the planned road trip looming, you are on the hunt for colourful glasses with metal wire if possible. Does Vuarnet VL1611 fit the requirement?
Get more style inspiration from Kelly Brook
Tag #SelectSpecSelfie for a chance to be featured on our page!
 Follow Us: