Angela Renée White (aka Blac Chyna) is most known for being a model and entrepreneur as well as her frequent guest appearances on the reality TV show, Keeping Up With the Kardashians.
Short term fans of the show will recognize her for being the girlfriend, and eventually fianceé of the only Kardashian brother, Rob.
The couple had a baby girl called Dream together in late 2016, only to split a month later.
There has also been a lot of drama regarding Chyna and the Kardashian sisters in previous years.
She formerly dated rapper Tyga.
After their split, he began to date the youngest member of the Kardashian/Jenner clan, Kylie.
As Blac Chyna was so heavily involved with their brother Rob, they found it difficult to accept that there was history with Tyga and Chyna which led to several disagreements between her and the clan.
Eventually, they did begin to cease the rivalry and ended up being civil to one another.
There has always been a great amount of emphasis on what the model has worn in recent years.
Chyna is known for her daring sense of style, whilst still keeping it fashionable and on trend.
Therefore, lets have a look at some of the TV personality's best style choices.
Provocative, but Pretty
This first look from Chyna consists of a black deep V-necked bodysuit layered up with a matching sheer floor length cover up.
The outfit features some dramatic puffed sleeves and a high neck.
The look has been styled up with a western style buckled belt.
I think the model looks effortless and wonderful in this ensemble – her sleek hair do and natural make-up complete the look perfectly.
Trendy Trilby
The next look from the model is very similar in style to the first.
Chyna is sporting a black sheer lace jumpsuit which contains a matching bodysuit.
It has a revealing neckline, long sleeves and tassel detailing on the legs.
She has completed the look with simple jewellery, a matching trilby hat and black strappy heels.
Multicoloured Magic
This outfit consists of a matching long sleeved black crop top and mini bodycon skirt.
She has added a lengthy multicoloured coat and a pair of black heeled boots to the mix to create the ultimate LA look.
The addition of her pale pink ombré hair gives off a very cool but chic vibe. I absolutely love it.
Fiery & Feisty
In this photo, Chyna is wearing a bright red satin mini dress with a low neckline.
Paired with simple jewellery and matching stiletto heels, it is a sure thing that this woman knows how to dress for her shape.
Also can we just take a moment to appreciate that amazing hair style – the colour is everything.
Casual Chic
This is the last and final look from the star.
She is sporting a plain white long sleeved tee with some classic fitted dungarees.
Styling the otherwise plain outfit with a pair of bright Nike trainers and a beanie adds an urban vibe to the look.
Chyna just looks flawless in this photo.
Another accessory which would sprinkle a touch of A-list dust on any of the outfits above is a pair of stunning sunglasses.
A great example are these Salvatore Ferragamo SF835S specs below which are suitable for any celeb outing.
That concludes this post on some of the best looks from reality TV personality and model, Blac Chyna.
My preferred look would probably be the casual dungarees and beanie combo.
Which look do you like the best?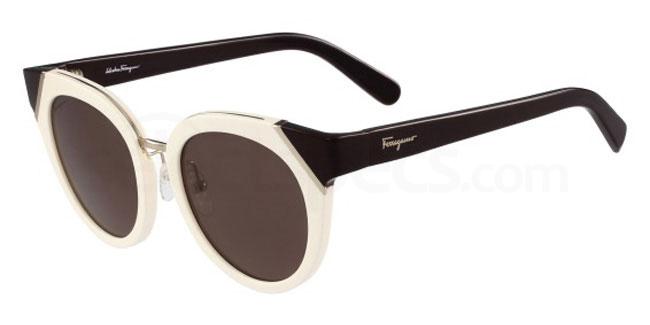 Tag #SelectSpecsSelfie for a chance to be featured on our page!
Follow Us: