With the most famous eyebrows in the industry, Cara Delevingne is certainly taking the modelling world by storm right now. The British beauty has featured in campaigns for Burberry, Dolce & Gabbana and Tom Ford to name a few. While Cara looks great on the catwalk, she also knows how to kill it in real life too, mixing cool, tomboy style with perfect red carpet glamour and always accessorizing to perfection. Cara loves to complete an outfit with a great pair of glasses and is often seen rocking statement shades or retro-inspired frames.
If you want to steal Cara's fashion-forward look, read on. We've stalked her Instagram snaps and found some of the best eyewear styles she's worn this year.
Tortoiseshell Frames
In true model style, Cara rocks her sunglasses all year round, even when the sun is nowhere to be seen. She was recently snapped in a cool pair of over-sized shades with tortoiseshell frames which she teamed with a casual dress and jacket ensemble. Tortoiseshell is a style staple that literally goes with everything, so we think Cara made a great choice here. Plus, the over-sized framed are so flattering.
If you love this look, re-create it with the Givenchy SGV874 sunglasses, which feature brown tortoiseshell frames and green-tinted lenses.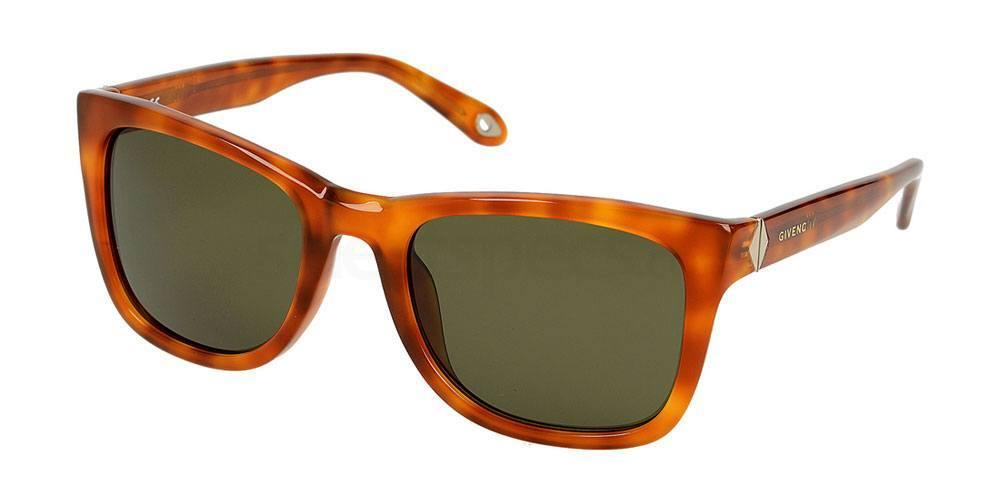 Over-sized Square Sunglasses
Ahhh the celebrity life. Hanging around beside beautiful beaches with your best friends and looking utterly amazing. We have to admit we're a little jealous – not just of the lifestyle but of Cara's statement shades too! She recently wore these bold beauties with squared black frames and dark lenses. Black shades are a huge trend this year, so it's no surprise that style Queen Cara has a pair.
To get the look, check out the Karl Lagerfeld KL869S which have the same square style and black frames. Cara is good friends with designer Karl Lagerfeld, so we think she would certainly approve!
Round-framed Specs
The 90's trend is well and truly back in fashion right now, not just in clothing but in glasses too. Cara shared this snap of her throwing it back in a pair of retro specs with simple gold-coloured round metal frames.
Chanel Cara's 90's vibe with this pair of Antares 615 glasses. Finished in gold, the round metal frames will add a retro look to any outfit.
Vintage Coloured Frames
In this look that she shared with her Instagram followers, Cara has matched her shades to her jacket, and we love it! Her vintage-styled sunnies feature oval lenses and cream frames. Coloured frames are a great way to co-ordinate an outfit and bring together a look, as Cara clearly demonstrates (and she looks pretty pleased with her ensemble).
https://instagram.com/p/58bpF-jKJ8/?taken-by=caradelevingne
Our Novus 2204 sunglasses with cream frames look just like Cara's pair and are extremely budget-friendly. They also come in classic black and sweet lilac.
Cool Clubmasters
Could Cara look any cooler? We think not. She recently took the driver's seat in a Formula One car in Monaco and accessorized with a pair of trendy horn-rimmed sunglasses. One of the hottest styles of the season, horn-rimmed glasses are perfect for adding an effortless look to every outfit.
Ray Ban's Clubmasters are the king of the horn-rimmed style and are a great choice if you want to copy Cara's look. We love the classic Ray Ban RB3016 with black frames.
Statement Cat-eye Shades
As you can see, Cara Delevingne certainly loves unique and unusual eyewear, and has one of the best collections around, but this pair is the quirkiest we've seen her in yet. On a recent trip, she showed off a pair of statement shades with cat-eye frames that looked utterly amazing. We give them a thumbs up too.
https://instagram.com/p/3AWSaZjKD6/?taken-by=caradelevingne
We're not exactly sure where Cara got her amazing statement specs, but the Zig Zag Kiss shades from Frency & Mercury come pretty close. Made from plastic, they feature round lenses and retro cat-eye frames.
So, what do you think of Cara's quirky and cool eyewear style? Will you be taking inspiration from any of her looks?