Johnson & Johnson ACUVUE® OASYS MAX 1-Day MULTIFOCAL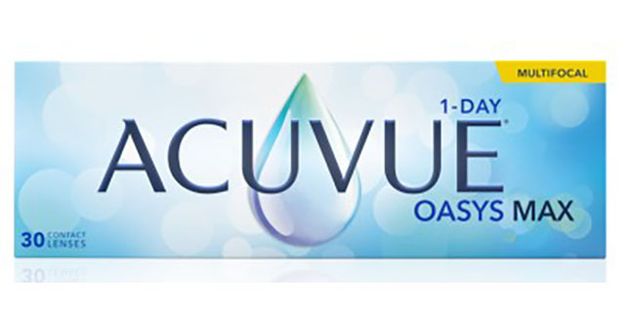 Spedizione Gratuita
Ordini sopra i 65,66€
Facili resi & scambi
Restituzioni e rimborso entro 14 giorni
Descrizione del Prodotto
Descrizione Prodotto
ACUVUE® OASYS MAX 1-Day MULTIFOCAL unites three powerful technologies to address more presbyopic needs
 
Pupil Optimized Design
For vision at all distances
100% of parameters tailored to pupil size variations across age and refraction
Same unique optical design across all ACUVUE® Multifocal contact lenses
92% of patients successfully fit with the first pair at first vision, and 96% successfully fit in 2 pairs of lenses or less

TearStable™ Technology
For all-day comfort and consistent vision
Optimizes wetting agent distribution throughout the lens and on the surface
Our first and only lens material designed to prolong tear film stability
Delivers 2x lower evaporation rate
OptiBlue™ Light Filter
For clarity in all lighting conditions
60% blue-violet light filter, the highest in the industry
Reduces light scatter
Reduces halos and starbursts
Key Benefits
Provides crisp, clear vision at all distances, in all lighting conditions, plus all-day comfort.
Unique optical design2 to help you see near, far, and in-between for clear, reliable vision.
Highest level blue-violet light filter††**1,5 for clarity in all lighting conditions
Special technology that retains moisture and stabilizes tear film for all-day comfort, even at the end of the day, and consistent vision throughout the day.
The highest class of UV blocking available in a contact lens.
Parameters
8.4 mm base curve/14.3 mm diameter
–9.00D to +6.00D (0.25D steps)
 
ADDs:
LOW: +0.75 to +1.25
MID: +1.50 to +1.75
HIGH: +2.00 to +2.50

 
Lens Details
Lens material

Silicone Hydrogel

(senofilcon A)
Wetting technology

TearStable™ Technology

OptiBlue™ Light Filter**

PUPIL OPTIMIZED DESIGN
Water content
38%
Center thickness at -3.00D (mm)
0.070
Oxygen transmissibility (Dk/t)‡
147 x 10-9 (edge-corrected)
Oxygen % available to central cornea
98% (open eye), 96% (closed eye)
Class 1 UV-blocking***
100% UVB, 99.9% UVA
Visibility Tint

Yes | Blue-green

Visibility Tint†2
Inside-Out Mark
Yes
Replacement schedule
Daily Use, 1-day replacement
Package size available

30 Pack Carton (Rx)

5 Pack Carton (Dx)
Dettagli
Recensioni
Domande Frequenti e Consegna