A lead singer for the 3 time Grammy award winning A-Capella band: Pentatonix, half of the power pop duo: SUPERFRUIT, and he owns a wardrobe we'd kill to get our hands on. Say hello to the (unfairly) talented: Mitch Grassi.
As part of Pentatonix, Mitch and the band have racked up over 2 billion views, have over 12 million subscribers and have toured all across the world.
How's that for an achievement?
Forming SUPERFRUIT with Pentatonix bandmate Scott Hoying in 2013 as a way to explore different musical avenues and expression, Mitch further proved his ability to release inimitable feel good music, stamped with his own unique flair.
Known for his unapologetic style as much as his killer vocals, Mitch has made waves with gender fluid fashion and outspoken advocacy for LGBT rights.
To coincide with the release of recent SUPERFRUIT EP Future Friends, a gorgeous campaign was shot, featuring Mitch's trademark playful aesthetic and subversion of norms.
Join us as we look at his recent campaigns and fashion highlights, and how you can steal his style.
Turning gendered fashion norms on their head, Mitch adorns a gorgeous raspberry high-neck dress in the above shot with SUPERFRUIT bandmate Scott.
Teamed with a gorgeous pair of white ankle boots, Mitch poses mid-dance with all the elegance and drama you'd expect from the entertainer.
We're loving Scott's slick tuxedo here too, with its floral embroidery that compliments Mitch's dress perfectly, while Mitch's statement sunglasses continue the hot pink motif.
Try the Just Cavalli JC792S to rock your own rectangular frames, and steal his style: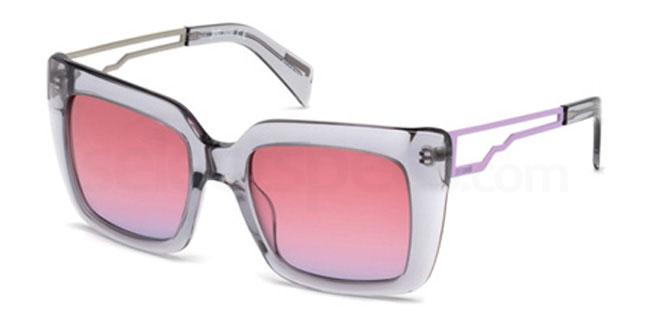 Channelling serious 80s vibes, Mitch and bandmate Scott rock matching denim jackets in the above album art for recent SUPERFRUIT EP Future Friends. 
We love the 'kooky' direction the pair took with the shoot, mixing art deco graphics with 80s jackets and 50s mopeds.
A great example of drawing inspiration from different decades to create something new and fresh!
Another shot from Future Friends, the above image captures SUPERFRUIT's playful vibes and Mitch's eye for slick tailoring and joyous styling.
We love that the white leather ankle boots make another appearance here, this time teamed with a deep navy suit and candy stripe shirt.
Scott's monochrome marble effect suit stands out amongst the colourful ball pit, cutting a gorgeous shape for the singer in the meantime.
This is band (and best friend) styling done right!
Mitch keeps things simple and clean in the above shot.
Keeping all of his accessories black (boots, bag, hat and shades – that's some seriously considered co-ordination), Mitch takes a basic shirt/jeans combo and transforms it with carefully thought out execution.
His classic aviators are a wardrobe staple – grab the tried and tested frames with the Police SPL364:
Mitch rocks double denim in the above shot, taken with Scott at Buzzfeed's Queer Prom earlier this year.
We adore the rhinestone detailing across Mitch's jeans and jacket, and the gorgeous embroidery patches across the light wash denim.
Mitch wears a contrasting orange shirt which pops underneath the embellished jacket, while Scott wears a millennial pink suit with a complimenting candy stripe shirt.
Could this pair be the most stylish pop duo around?
Check out the style files of Years & Years frontman: Olly Alexander
Tag #SelectSpecSelfie for a chance to be featured on our page!
Follow Us: